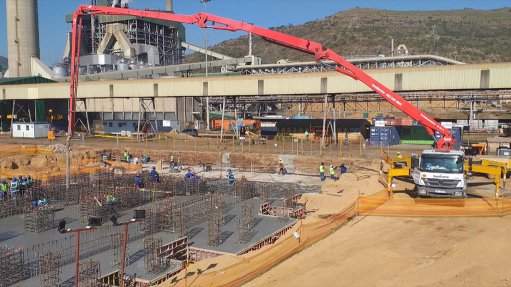 ELB starts civil works at Ngodwana biomass power project
ELB Engineering Services has successfully completed the first concrete pour at the 25 MW Ngodwana Energy biomass power project, in Mpumalanga.
The first concrete pour was done for a section of the boiler building raft foundation and was about 300 m3. The boiler forms part of the power island which consists of the boiler, turbine, cooling towers, a precipitator and a stack.
The power island is built on 507 piles of 15 m deep, and the boiler raft foundation is cast on top of the piles and comprises 1 000 m3 of concrete and 115 t of rebar.
The power plant, which is being erected at paper and pulp producer Sappi's Ngodwana mill site, will use waste material from the surrounding plantations to generate power that will feed into the national grid.
ELB Engineering Services, Korea-based KC Cottrell and the ELB Educational Trust form part of the ELB-KCC Consortium, which had been appointed as the engineering, procurement and construction contractor for the power project.
KCC will provide the power island, which consists of a boiler, turbine generator, cooling towers and air pollution control system, while ELB is responsible for the civil work, fuel handling, electrical switchyard and site erection.
The project forms part of the projects awarded under the fourth bid round of the Renewable Energy Independent Power Producer Procurement Programme.