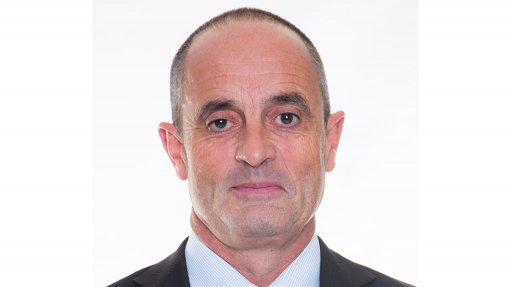 MALCOLM HARTWELL Severe pressure on global shipping and trade markets has resulted in a significant decline in the commodity exports that South Africa relies on so heavily and in imported manufactured goods
The economic situation and reduced demand for port facilities have led to a general reduction in investment in harbour infrastructure and dredging, says global law firm Norton Rose Fulbright transport head Malcolm Hartwell.
"The global shipping and trade markets have been under severe pressure for several years. This has resulted in a significant decline in the commodity exports that South Africa relies on so heavily and in imported manufactured goods."
He notes that this has been exacerbated by South Africa's poor performance over the past ten years, leading to a decline of about 30% in the tonnage of ships calling at the Port of Durban, in KwaZulu-Natal, over the past year.
This performance is subject to a number of caveats, of which the first is that South Africa committed itself to developing the ocean economy by encouraging investment and development in ports and port facilities. "Operation Phakisa lost its focus under the previous administration, but Transport Minister Dr Blade Nzimande has recommitted government to pursuing the potential returns on investment," Hartwell points out.
Further, there has been a marked shift in the way in which shipping lines operate over the past few years. Hartwell notes that Transnet has determined that the most efficient way of moving containers is between large hub ports on huge container ships and then to distribute the containers on smaller ships to spoke ports from those hubs.
Subsequently, this has resulted in the capacity of container ships increasing to 25 000 containers on one vessel, which can enter only a limited number of deep-water ports with long quays.
"Every region in the world only needs about six of these ports, and 'first movers' will then have the advantage of becoming hub ports. Owing to political stability, financial security or geographical advantage, it is likely that only five or six major hub ports will develop in Africa," he says.
TNPA Monopoly
Transnet National Ports Authority (TNPA) holds a monopoly over the operation of ports, although it does allow private operators to operate terminals and facilities within those ports.
TNPA is one of several divisions within State-owned freight utility Transnet. All earnings by the TNPA and other divisions within Transnet are used to pay the operating costs or losses of the other Transnet divisions.
"The challenge is that the other divisions – while they have performed poorly – do not have a monopoly in the markets that they service."
The current monopoly of port services means that transport and port costs are passed on directly to users. State-owned monopolies are known to be inefficient and insensitive to price, says Hartwell.
"The fact that the port regulator has reduced the TNPA's tariffs suggests that they are excessive and, unfortunately, as with any fixed costs, all of these charges have to be passed on to the users."
The planning and development of the dig-out ports in Durban – currently on hold – and the inland ports, which are quickly developing, is an extremely long process. These new ports are a massive financial investment competing with the pressing social needs of South Africa for resources to develop.
To justify a new port, the environmental concerns of the affected communities, as well as the concerns of communities that are displaced by the new ports, have to be addressed, adds Hartwell.
However, he highlights that TNPA is proceeding with the deepening of some of the berths in Durban harbour and developing the Salisbury Island precinct into a new container terminal in the medium term. This will require massive investment, since the handling and storage facility will require the entire Durban harbour between New Pier and Salisbury Island to be filled, and deep-water berths dredged and constructed.
"The pressure to build a dig-out port has to some extent been alleviated by the decline in cargo volumes, but also by the construction of inland ports in Cato Ridge and Gauteng, where containers can be staged for just-in-time delivery to the container terminal in Durban."
Subsequently, exporters no longer have to store or deliver their containers to the TNPA terminal, in Durban, long in advance of the ship arriving, says Hartwell. Containers also do not have to be stored in private terminals in and around Durban, which helps to relieve congestion.
Moreover, TNPA is developing new systems to manage the movement of containers to minimise the time they are stored in the Durban area.
Hartwell adds that South Africa is ideally situated geographically to be a leading maritime nation, as TNPA operates some of the busiest and most sophisticated ports in Africa and the southern hemisphere.
"South Africa needs to attract direct foreign investment before any of our neighbours do so and permanently relegate us to being a local transport hub. This requires policy certainty and absolute assurances from government that any investment in this country will be protected," Hartwell concludes.