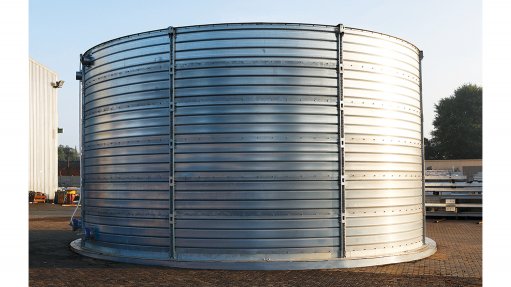 TANK TOP The Maxi range of tanks offers water storage capacity of up to 1.5Mℓ
Steel products and related services company Structa Group recently launched the marketing drive for its new Circotank brand, which offers a range of rolled sectional steel tanks.
Circotank is manufactured from galvanised steel sheet, cold rolled, with a stiffening profile.
The brand will be offered in a Midi range and a Maxi range.
The Midi range is simple to build and requires no special equipment. Assembly staff can easily assemble and lift segments onto tank stands using standard rope and pulley systems.
The range fills a gap not covered by typical molded plastic tanks and is particularly suited to applications where users need storage of between 5 000 ℓ and 20 000 ℓ, often on stands to create distribution pressure.
The Maxi range covers tank sizes of between 100 000 ℓ and 1.5 Mℓ. The range targets large-scale water projects, with typical application in industrial water storage such as fire tanks and mass rural water supply schemes.
Structa Group is particularly excited about the Midi range, as it is optimally suited to application in schools, clinics and small rural-water storage.
Circotanks are transported in segments and can be assembled on top of stands if required, eliminating the need for cranage in difficult rural applications. The tanks are transported in prerolled segments, which allows for compact transport and easy offloading.
They are erected on concrete ring-beam foundations and require reasonably simple earthworks beforehand. Erection is done using a strake lifting system that requires no craneage, resulting in an economical total cost for every cubic meter of water storage.
Structa Group chairperson Piet Coetzer enthuses that the equipment used for the semi-automatic punching and profiling was custom-developed for the product and is adjustable to allow for a range of tank sizes to be manufactured going forward.
Further, Circotanks use a polyvinylchloride (PVC) liner that improves the speed and quality of the structure of the tank, resulting in a reliable product, he says.
Coetzer adds that, in typical bolted tanks, much care and effort are required to ensure that structural joints do not leak.
Using the PVC liner negates leaks, which consequently speeds up the assembly and sealing process.
Liners also extend tank life, owing to their being repaired and even replaced, with the structure of the tank remaining intact.
The Circotank range took 18 months to move from concept to the first manufactured products, with non-linear finite element analysis being used to optimise structural performance during the design cycle.
The Circotank system was developed by the Structa Group's Pretoria-based engineering team, after which the custom-made rolling system was built at its Meyerton factory, in Gauteng.
Coetzer concludes that the Structa Group understands that South Africa is a water-scarce country and has, therefore, developed the economical and robust range to cater for the storage of water and long-term water supply.