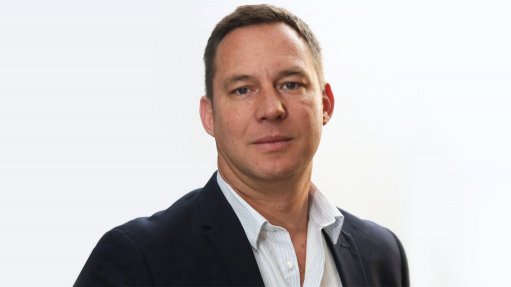 West Wits Mining MD Jac van Heerden
JOHANNESBURG (miningweekly.com) – West Wits Mining, the Australia-listed Witwatersrand gold reviver that is advancing fast on an initial A$9.5-million capital raise, is the beneficiary of an unexpected gold find that will result in income being generated considerably sooner than expected.
From next month, West Wits Mining, headed by MD Jac van Heerden, will begin turning valuable vamping material to account that nobody knew was there. (Also watch attached Creamer Media video.)
The vamping material escaped the attention of the definitive feasibility study (DFS) because entry of the dormant section of the Rand Leases and DRDGold that closed a couple of decades ago was still unsafe at the time.
But that all changed in November and December when a ventilation system was installed, the underground made safe and the ready blasted vamping material came into view.
"It was a nice surprise for us," an upbeat Van Heerden told Mining Weekly in a Zoom interview.
Grab sampling showed that the material had an average grade in line with expectations and income generated will help to cover overhead costs.
That will happen ahead of the company getting stuck into the in situ orebody in March/April, when it will commence blasting and extract face rock.
Following the granting of the mining right and completion of the Qala Shallows Stage 1 DFS in the third quarter of 2021, West Wits has rapidly advanced site establishment, mine development and the early mining initiative at its Witwatersrand Basin Project that highlights the huge potential of South Africa to begin turning its rich legacy resources to positive account.
The rights issue to fund the project was fully underwritten by Evolution Capital.
The company has also completed a share placement on an unrelated investor to raise a further A$1.6-million and has appointed South Africa-rooted Taurum International to raise debt.
The compliant resource estimate of the Witwatersrand Basin Project has hit the 4.28-million ounces mark at a grade of 4.58 g/t of gold.
"That's quite an exciting grade for us," said Van Heerden, who described the orebody as strong and the growth potential as considerable.
The Qala Shallows area is where the DFS was finalised last year. There the grades are still at the 3.5 g/t or thereabouts. That is also the 500 m area where mining will start first and where the DFS declared a reserve of about 288 000 oz, a number that is poised to remain until further feasibility studies are completed this year.
With the mining of the vamping material and old available faces due to begin next month, rock engineering and ventilation teams are going all out to identify rock conditions and ventilation requirements to ensure that the reviving operation is in a position to start taking up ore from February/March onwards.
"We estimate that, at least for the next six months, we'll be in a position to take out about 5 000 t to 8 000 t a month and as we understand the available faces a bit better, we'll then extend that plan going forward.
"Our DFS project, as we call it, was only really scheduled to click in from about September this year, so what we've managed to do with what we call the early mining initiative is to bring quite a bit of activity forward.
"We're in a position to prove to people that the gold is there and we're funded for this year to start this early mining. We're still working on our debt funding initiatives as well and at least for the next six months or so we're are funded to start our early mining initiative," Van Heerden enthused.
West Wits has appointed Modi Mining as its mining contractor. Modi states on its website that it is led by Motlapele Molefi, with entrepreneurial prowess derived from years of building successful enterprises through consulting and advisory, and mining engineer Sam Molefi, with a 20-year career in mining and explosives.
When an output of 50 000 t/m is attained, the company expects to have created about 600 to 700 jobs.
Mining Weekly: Are your projected costs per ounce of gold produced still in line with your feasibility expectations?
Van Heerden: The feasibility study that has been completed showed quite a competitive dollar per ounce all-in sustaining cost and now that we've got Modi Mining on board, we are now able to confirm that the initial mining rates that they gave us, are in line with our feasibility expectations. At the moment, we do not have a concern that the mining costs will blow out. It was a good exercise for us to go through that process, appoint Modi mining for our early mining initiative, and then if they perform well, there is always the opportunity for us to extend our relationship with them going forward.
When will you move from Qala Shallows to Qala Deeps?
Qala Shallows has got a life of about 14 years and we'll develop all the way down to Qala Deeps. We'll be stuck in Qala Shallows for quite a while and develop all the way down to Qala Deeps and then probably in about three to four years get to Qala Deeps and we start opening it up. The vamping material that we've identified we see as a short-term initiative because the ore is available, it is already blasted and we can generate a bit of income from that to cover some of our overhead costs. But our intention is to get into in situ orebody quite quickly. Probably in March/April we'll start blasting and taking out face rock that we can process.
So the vamping material is a nice surprise on the upside?
Absolutely. It was excluded from our DFS because at that point, when we were busy with our DFS, we never really went underground and we couldn't assess the area properly, but in November and December, we were able to install a ventilation system, make it safe with the assistance of our rock engineering team and assess what we've got underground. It was a nice surprise for us. The grades we've got from that area, even though it was based on grab samples, it was in line with our expectations.
How many people are already on site?
Ultimately, when we reach the 50 000 t/m, we will be looking at about 600 to 700 jobs. From now, until three or four years from now, we'll build up to that number. At the moment, I think we've got about 50 people on site already, which is set to grow. What's nice about that is that even though we are in close proximity to formal establishments, and transport routes are already in place, we are sufficiently secluded to not impact people, but yet it is easy for people to get to work. At the moment, we'll employ people through Modi Mining. They've got all their systems set up. We try to keep our head office, if I can call it that, relatively small and with most of the focus from the five guys we've got here going into Modi Mining, so that Modi Mining can do the employing. Modi Mining has got all the systems set up from their previous contracts. It's a lot easier to employ these operators through Modi Mining.