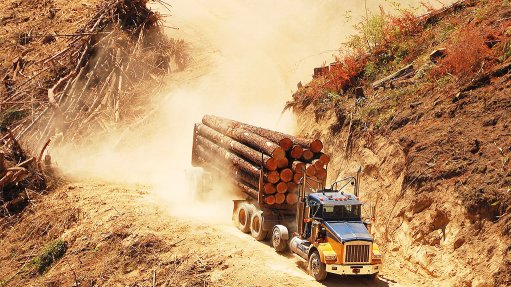 EAT MY DUST Chryso's Eco Dust range comprises liquid products for dust suppression to seal dirt roads
With dust legislation encouraging awareness of dust repercussions, chemical solutions provider Chryso Southern Africa (Chryso) and its subsidiary a.b.e are providing a range of dust suppression technologies to help reduce the effects of dust, Chryso CEO Norman Seymore tells Engineering News.
"We aim to provide innovative solutions to improve construction systems and methodologies to not only provide products but also enhance working environments."
a.b.e is manufacturing dustless technology to treat powdered cementitious products at its facility in Boksburg, Gauteng, which Chryso and a.b.e distribute.
Seymore explains that the blending of cement is characteristically a messy process, which generates a lot of dust before it is mixed with water. Therefore, using a.b.e's technology ensures that the cement products do not generate any dust. This engenders a cleaner production space when blending cement and reduces the amount of dust released into the environment.
Moreover, the treated products are beneficial from a health and safety perspective. Seymore informs that cement can burn when it comes into contact with skin; with this being even more dangerous in the mining environment, as temperatures are typically higher, especially underground.
Dust Suppression
Chryso offers the Eco Dust range, comprising liquid products for dust suppression to seal dirt roads, which are environmentally safe chemical applications. These products' formulation enables them to penetrate deeper into the ground, where it binds the dust particles together, acting as a glue and creating a new ground layer without dust.
While this layer is not permanent, it lasts about three times longer than the conventional method of spraying dirt roads with water from water tankers to fortify the surface. Therefore, being substantially more wear resistant, it is a "much more effective solution" than the conventional method.
Consequently, the surface of dirt roads has to be sprayed less often, depending on the amount and type of traffic, which reduces time and water use, with a minimal cost increase.
These products can be applied on any ground surface and are specifically formulated for several different applications, including mining, quarrying, forestry, construction and agriculture. Moreover, they can be custom-made to client requirements, such as applications for light or heavy traffic. Seymore enthuses that this is a unique facet of Chryso's range, as, historically, one raw material was offered for all applications.
Meanwhile, changing misconceptions about water being free and, subsequently, that using formulated products is an unnecessary cost increase, are challenges for Chryso. However, Seymore indicates that, through a trial process, the company can demonstrate that its products require less water and labour, as well as other costs associated with spraying water several times a day.
Chryso has been offering this range since September last year and Seymore says uptake has been good thus far. He highlights that there is a need to reduce water consumption in the Western Cape, owing to the drought; and uptake of products has been particularly good in this region. Further, the company has had a lot of "positive" export interest, specifically Zambia, the Democratic Republic of Congo and Namibia. Locally, the quarrying and forestry industries have been key markets, indicates Seymore.
"We have our in-house range of products in this range and, as we go deeper into the market, learn from clients and face new challenges, we will develop and improve on these."