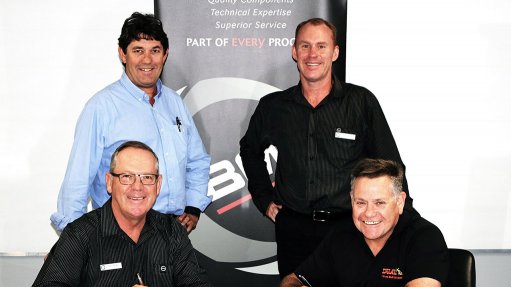 EXPANSION BMG has been appointed distributors for Dual Valves products in South Africa and into Africa
Engineering components supplier BMG was recently appointed as the distributor for slurry valves manufacturer Dual Valves' products in South Africa and Africa, through its 130 branches, as part of the company's fluid technology expansion programme.
Appointed in February, BMG fluid technology business unit manager David Dyce says the addition of Dual Valves products to BMG's portfolio, enhances the company's solution offerings and expands its customer base by providing new market and application opportunities.
"The market share for both companies will be significantly expanded through this distribution agreement, which improves accessibility to Dual Valves' products throughout Africa."
Dyce points out that, through BMG's broad branch and distributor network, customers will have access to the Dual Valves range of products, such as dual valves, ball check valves, non- return valves, rotary disc valves, air release valves, double ball check valves and dual pinch valves.
BMG's fluid technology services also cover project engineering and consulting, cylinder design and manufacturing, training, repair and testing, as well as on-site container services.
Moreover, he adds that the company launched its abrasion resistant products that include pivot gate valves towards the end of last year. "The pivot gate valve is a new rotating gate valve, designed specifically for heavy abrasive and corrosive slurries. The patented design, which allows the valve to cycle in heavy slurries without sticking, is available in three types: wafer, flanged and high-pressure valves."
Dyce notes that the BMG's product range is selected from leading manufacturers which have consistent quality controls, compatibility, standardisation, reliability, extended service life and stringent quality specifications.
He says BMG and its suppliers adhere to the highest standard in the market and also comply with the International Organisation for Standardisation as well as industry requirements to be able to give warrantees or guarantees on the valves.
Dyce explains that the company's ongoing research and development programme will ensure that the range of slurry valves are continuously improved and extended, according to stringent quality standards and market requirements.
He says the company boosts its fluid technology services with dependable technical support to ensure optimum safety, efficiency and extended service life of every system, even in corrosive environments and arduous conditions.
"The BMG and Dual Valves teams, with their invaluable experiences, are able to specify the correct valves needed for every application and also assist customers in solving problems pertaining to difficult installations and applications," Dyce concludes.