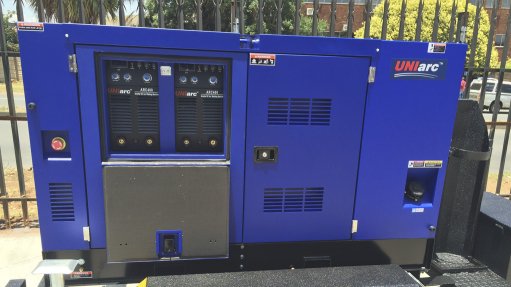 COST-EFFECTIVE SOLUTIONS The dual-purpose welder model offer the latest in engine technology
Welding and construction-related equipment supplier Renttech South Africa (SA) aims to provide cost- effective solutions for contractors by sup- plying high-quality, dual-purpose units.
Renttech SA product manager Martiens Opperman explains that Renttech SA's dual- purpose welder and generators are continuously being improved and that recent models offer the latest in engine technology, resulting in improved fuel efficiency, lower cost of ownership and greater application flexibility.
The models are 1 500 rpm units – which substantially reduce maintenance and increase engine life expectancy – as opposed to the typical diesel engine-driven welders in 300 A and 400 A configurations that are available as 3 000 rpm units.
Opperman notes that the company has had great interest from new and existing customers in major power generation, petrochemicals refinery and shipbuilding projects throughout Southern Africa regarding the rental options and sale of these units.
He adds that any large construction projects will benefit from using these dual units, as cost reduction has never been more critical than in the current economic climate.
Apart from the dual-purpose welding and generator units, Renttech SA also offers a range of 380 V and 525 V Uniarc multiprocess welding machines, which can perform gas metal arc welding, shielded metal arc welding, tungsten inert gas welding, flux-cored arc welding as well as gouging.
This enables the contractor to buy one unit instead of three or four products for the various processes. Opperman notes that the advantage of this unit is that two welding points can be operated from a single gene- rator, resulting in savings on operating cost per welding point.
Further, should a welding machine break down, customers can simply exchange the welding power source without having to replace the complete unit, reducing potential downtime.
Meanwhile, the company opened its new centralised outlet, in Wadeville, in October last year, where customers can choose from range of equipment.
The new outlet provides full turnkey solutions and easy access for many Gauteng industries that have operations in the area, with in-house technical personnel providing expert know- ledge on all products.
The company aims to differentiate itself from competitors by providing solutions rather than merely products for customer-specific applications.
"By understanding what our customers do, we can match the correct product with the particular requirement and application to achieve the optimal outcome for the customer," says Opperman.
The new outlet has received good response from industry in Gauteng – particularly in the east of Johannesburg – as an increasing number of customers are using this facility as a one-stop welding and construction outlet, says Opperman.
Renttech SA notes that it is the sole and largest local distributor of specific product lines in Southern Africa and can negotiate better pricing from its suppliers, based on volume and product support, without sacrificing quality.
This also provides the company with access to various manufacturing facilities globally, for example, the wholly owned subsidiary of manu- facturer of welding products Lincoln Electric Company, design, development and manufacturers of brazing, soldering and welding equipment Harris Products Group.
While Renttech SA always ensures that its supplies meet customer requirements, popular ranges are also available from companies such as power tool suppliers Bosch and manu- facturers and distributors of men's and women's workwear Jonsson Workwear.
He adds that, in the current and challenging price-sensitive market, the company is providing continuous product improvement and cost control through its direct sourcing methods.
The company highlights that it provides a complete range of spares and service support, with service personnel available at each of the 20 branches in the country and in Namibia to assist in servicing and other maintenance- related requirements.