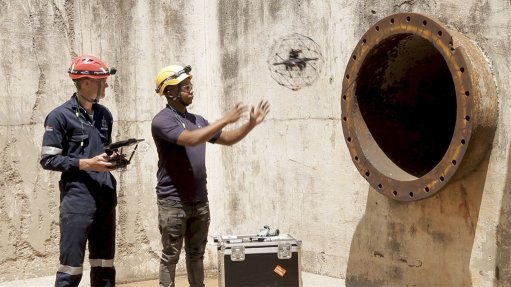 NO TIME WASTED A visual inspection using a drone takes an hour and only requires the operator and their assistant
Industrial rope access company Skyriders' use of drones for on-site inspection has enabled it to gain access into confined spaces that might be too dangerous for its clients' technicians.
A drone can be used to conduct a visual inspection in a specific area. It will send live feedback, which is then recorded onto a standard SD card or on the hard drive of the tablet, to the drone operator, explains Skyriders marketing and sales manager Mike Zinn.
"The footage from the live feed will then be used to determine if it is safe enough for the rope-access team to enter the area and conduct further detailed inspections. Maintenance can start when the inspection has been completed. Drones have made our job safer and it also gives the client peace of mind," he says.
He adds that drones have also helped to accelerate inspections. A visual inspection on an average-sized power station boiler using more traditional access means like scaffolding can take a few days if not weeks, while using a drone it would take an hour, and would require only an operator and assistant. These visual inspections could then be followed up with a focused visual or nondestructive testing inspection performed by rope-access technicians, who could also assist with maintenance and repairs if and where necessary.
Drone technology is still a fairly new concept for clients who are still adapting to the idea of rope access, says Zinn.
However, companies are coming up with new innovations for drone technology, which has led to clients becoming more interested in the technology.
Zinn notes that acquiring commercial licensing from the relevant government agency to fly drones outdoors has presented the industry with some challenges.
"Obtaining the necessary paperwork timeously has proven to be a daunting task. While it is not necessary to have a licence when flying drones indoors, a licence is required when flying drones outdoors."
He adds that this challenge can be mitigated by the relevant agency appointing more people in their respective departments.
Skills Development
Three Skyriders operators have been trained and employed by the company as drone experts. The company uses a fleet of drones for indoor inspections.
The company aims to add two more operators who will be trained to operate in a commercial environment once the company has acquired commercial licensing.
Zinn explains that training programmes usually take six months to complete and include a number of training aspects that have to be done through accredited trainers.
Theoretical training can take about two or three months before practical training can start.
In addition, Skyriders' future plans include expanding its client base within the same market as that of rope access and working at height, as well as expanding the company's fleet while continuing to provide service for current clients, Zinn concludes.