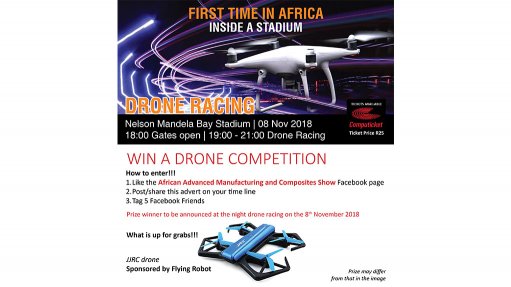 Drone and technology enthusiasts are in for a treat when South Africa's top pilots will race in a unique Drone Night Racing exhibition at the Nelson Mandela Bay Stadium in Port Elizabeth on November 8.
Sixteen of South Africa's top pilots will demonstrate the spectacle of drone racing, which says organiser Andy Radford, is heightened by several unique features.
"The event is a visual spectacle and quite unique for a number of reasons, including the fact that pilots are racing first person view with headsets which means they are flying by seeing what their drone is seeing through a camera.
"Then it is very rare that drones are raced inside a stadium and this will certainly be a first for the region and possibly only the second time in South Africa.
"Finally night racing means the gates as well as the drones themselves are illuminated, so we expect spectators to be treated to a light show of sorts.''
The drone exhibition event is being managed by FlyFPSA, an official body for drone racing. Some of the pilots will be returning from the World Champs in Hong Kong the week before.
According to the Commercial Aviation Association of South Africa (CAASA)It is estimated that there are more than 40 000 drones in South Africa at present with international averages indicating 6.3% of total drones being used for commercial purposes.
"The growth of drones is astounding, as is the increasingly futuristic technology and material that is used to operate them. As a result drones and drone racing is a fashionable way of exposing science and technology to a wide cross spectrum of the nation, but particularly young people,'' Radford said.
The drone night racing is one of the activities of the African Advanced Manufacturing and Composites Show on November 7 and 8 between 6 pm and 9pm at the Nelson Mandela Bay Stadium, which also features an exhibition of future production technology (3D Printing, Robotics, Composites), seminars, the International Conference on Composites, Bio-Composites and Nano Composites and the National Advanced Manufacturing Innovation Awards.
Radford said the Exhibition was open to all business visitors between 9am and 4pm while tickets to the Drone Night Racing at R25 were available at Computicket.
For more information : www.africanadvancedmanufacturingshow.co.za