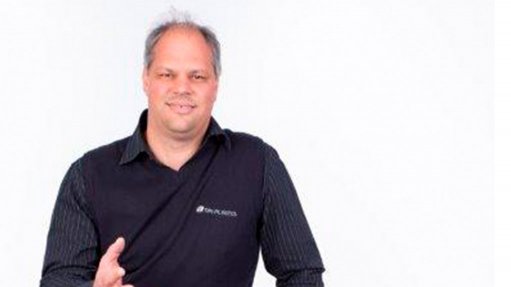 DPI Plastics has upgraded the tooling on its large-bore extrusion line at its Roodekop facility in Johannesburg in order to extend its current range of Ultraflo™ PVC-m pressure pipes to include diameters of up to 630 mm and a 16-bar maximum operating pressure.
The Ultraflo™ range has been expanded due to a demand in the market for large-bore pipes with higher operating pressures, comments DPI Plastics Technical and Product Manager Renier Snyman. "Our PVC-m pressure pipe range is the only one in Sub-Saharan Africa to include 630 mm diameter pipe up to a 16-bar operating pressure."
Introduced onto the market in May 2016, DPI Plastics has already secured a major order for the new 630 mm diameter pipe. Applications include gravity and pressure water mains and reticulation, irrigation, and industrial pipeline systems.
Commenting on the constraints facing infrastructure delivery in South Africa, Snyman elaborates: "The challenge is to stay competitive and productive in the current economic climate. We have tendered on a lot of work, and there will be major opportunities going forward when these tenders are finally awarded."
Ultraflo™ PVC-M, or mPVC, is a tough and resilient, modified PVC pressure pipe, developed to offer greater strength and toughness. Modified Polyvinyl Chloride has been designed specifically to provide similar tensile strength and greater resilience than standard PVC piping products.
It is ideally suited to bulk water supply projects due to it being considerably more ductile than industry-standard unplasticised polyvinyl chloride. The enhanced ductility of PVC-M pipe gives it exceptional resistance to crack propagation under pressure.
In addition to superior toughness, PVC-M has reduced wall thickness. This translates into less raw materials during the manufacturing process, and ultimately a lighter product that is easier to transport and install, thereby minimising its total carbon footprint.
Ultraflo™ pressure pipes from DPI Plastics are manufactured in accordance with the SANS 966 Part 2 specification, incorporating a design stress of 18 MPa. "Our pressure-pipe systems offer design engineers and contractors distinct advantages such as a lower mass, higher impact resistance and improved ductility, increased hydraulic capacity, and predictable performance," Snyman concludes.