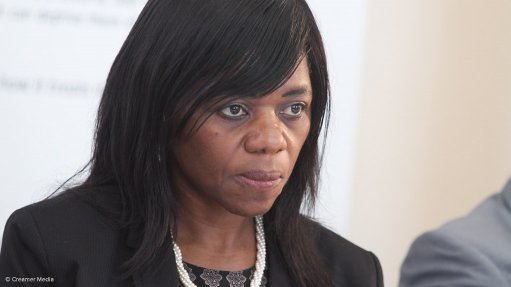 Former Public Protector Thuli Madonsela
Photo by: Duane Daws
JOHANNESBURG (miningweekly.com) – Mining has the wealth-generating potential to boost economies, but countries blessed with a mineral endowment must at least do their bit by assuring good governance.
Regrettably, against the background of the recently released 'State of Capture' report of former Public Protector Thuli Madonsela, South Africa can kiss meaningful, honest mining investment goodbye until it pulls itself right.
In addition, last week's passing of a new Minerals Bill by Parliament has again failed to de-risk mining investment.
What South Africa is losing out on, as a result of its errant regulatory behaviour, is highlighted in the latest report of the International Council of Mining and Minerals (ICMM), which ranks 183 countries according to the relative economic importance of mining.
The new data highlights the importance of governance in broader based economic and social progress.
Currently, South Africa's Department of Mineral Resources (DMR) is inhibiting that progress by continuing to award mineral licences clandestinely and allowing the irregular movement of mine rehabilitation money.
All those dedicated to putting South Africa's economic interests first should combine to force full transparency when it comes to mineral licensing and rehabilitation guarantee information.
Posting key information on the Internet for all to access is a must and the DMR should be forced to take its cue from organisations like the ICMM and the Extractive Industries Transparency Initiative (EITI) to improve transparent reporting and governance.
In fact, against the current background, joining the EITI should be a must.
Australia's Federal Resources and Energy Minister Josh Frydenberg has revealed that his country – which has none of the regulatory notoriety of South Africa – will be joining the EITI and South Africa should do so as well.
South Africa should also jettison the nonsense it gazetted under the guise of promoting mineral exploration and opt for a concept like Canada's flow-through scheme, which even the Australians have begun to consider.
Mining can contribute hugely to a country's gross domestic product, export earnings and inward investment.
The latest ICMM report indicates the importance of mining in the economic life of a country and the potential for it to translate into economic and social progress, even when the prices of metals and minerals are low.
"Mining can play important roles in contributing to sustainable development. It makes critical economic contributions through the government revenues it generates and the linkages it creates with local economies," says United Nations Development Programme policy adviser Casper Sonesson in the report.
In addition, there is great scope in other areas ranging from leveraging mining-related infrastructure and water management for local development to minimising environmental impacts.
In Africa, the mining industry accounts for 10% of the total value of exports, second only to petroleum, and mining and associated industries play a crucial role in the economies of several African countries, especially in foreign direct investment, public revenue and job creation, the African Development Bank's Africa Natural Resources Centre director Sheila Khama says.
But governance is a key determinant of the long-term benefits that citizens derive from mineral endowments, and of the nature of relationships between citizens and mining companies, Natural Resource Governance Institute legal and economic programmes director Patrick Heller points out.
With good governance and responsible mining practices, mineral resources can be a major driver of development, Blavatnik School of Government economics and public policy professor Paul Collier adds.
The ICMM report shows that 15% to 20% of revenues from a typical mine go to host governments as taxes and other payments, 10% to 20% in direct employment, 15% to 20% as profits for shareholders and 50% to 65% to capital and operating expenditures.
Largely because of the South African government, the South African mining industry is now smaller than it was in 1994, in spite of exporting 60 different metals and minerals to more than 100 countries.
Mining now represents less than 10% of the market capitalisation of the Johannesburg Stock Exchange, down from 30%, yet more than half of the National Development Plan's problems could be tackled if the country had a growing mining sector.
As has been pointed out repeatedly by Chamber of Mines of South Africa CEO Roger Baxter, mining still contributes 25% of South Africa's exports, 1.4-million jobs, brings in 15% of foreign direct investment and 20% of private investment. Minerals worth R116-billion are sold in South Africa itself.
As he regularly adds, metals and minerals are the building blocks for smart technologies, with each cellphone requiring 16 g of copper, 0.35 g of silver, 0.34 g of gold, 0.015 g of palladium, 0.00034 g of platinum as well as indium, titanium dioxide and indium tin oxide.
Mining is also a major contributor to renewable energy, with a 2 MW wind turbine using 335 t of steel, 4.7 t of copper, 13 t of fibreglass, 3 t of aluminium and 1 200 t of reinforced concrete.
Mined minerals such as talc, mica, kaolin, calcite, titanium dioxide and zinc oxide are used in cosmetics and makeup and toothpaste needs mined silica, limestone, aluminium, phosphate, fluoride, titanium, mica and petroleum.
The local mining industry pumps out 200 megalitres of water a day, which can be treated and put into the system on a cost-recovery basis to augment general water supply, currently a major issue.
The calls made for mine land and mine water to be used for community development through agriculture must also be heeded.
The Tavland fruit-orchard scheme of the defunct Johannesburg Consolidated Investments, established near Carletonville in the old days, employed 10 000 people from the surrounding areas.
Gold mining company Sibanye, headed by CEO Neal Froneman, is already rolling out an impressive approach to ensuring that, when mining ceases at its operations on the West Wits in 30 to 40 years' time, it will leave a vibrant agricultural economy, which is at this incipient stage already employing 640 people.
New Exxaro Resources CEO Mxolisi Mgojo is giving consideration to agriculture becoming part of the company's mandatory social and labour plans.
More steps should be taken to ensure that the vast tracts of mine land and the availability of water from mines are put to good use for the benefit of as many people as possible as soon as possible.
The sustainability activity of gold mining companies like Randgold Resources is funded by devoting a part of the value of orebodies to communities who qualify for potable water and primary education.
In addition, Randgold believes that investment in food security is one of the biggest investments it can make. It does so by building village cooperatives, ensuring basic agricultural extension support and investing in tractors, ploughs and harrows to allow villagers to plant their crops in deeper soil, using company-supplied fertiliser and seed.
The agricultural college that Randgold has built in Mali graduates 100 economic farmers a year.
By allowing the DMR to continue to stunt mining progress, South Africa, its people and its economy are needlessly losing out on all this.
South Africans need to act now to remove any narrow vested interests that stand in the way of achieving vital economic growth, without which this country cannot advance its people.