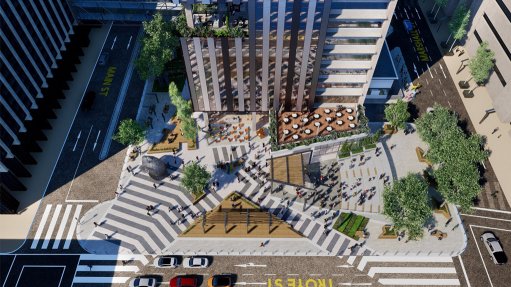 Divercity Urban Property Fund is investing R2-billion in two redevelopment projects – the Absa Towers Main building and Jewel City – in Johannesburg, as part of its strategy to create thriving mixed-use inner city precincts.
This investment is the largest into the Johannesburg central business district for a number of years, and was announced in the presence of Johannesburg mayor Herman Mashaba, on Wednesday.
Newly launched Divercity is an investment fund backed by the experience of some of South Africa's leading property investors and developers.
Divercity's major shareholders and stakeholders are Atterbury and Ithemba Property, with Talis Property Fund forming a major part in the formation of the fund. Cornerstone investors will be RMH Property and Nedbank Property Partners, subject to Competition Commission approval.
Speaking at the announcement, Mashaba expressed his admiration for the two projects.
He noted that the national and provincial budget does not have the resources to execute such projects on its own and, therefore, public–private partnerships are integral to boosting development, over and above the city's current project plans for 84 buildings.
He also expressed his office's support for these two Divercity projects, committing all resources at his disposal to Divercity to execute these.
He emphasised that these projects should be a case study for kickstarting his vision of "turning Johannesburg into a construction site".
"The city's support for Divercity will not be exclusive – it should be a case study for further developments, proving to other investors and developers that the city is open for business. These projects are a practical way of boosting our economy – not another talk shop or conference."
ABSA PROJECT
Following a competitive bidding process, Divercity acquired the 30-storey Absa Towers Main building from Absa, conditional on approvals from the Competition Commission.
The currently unoccupied building will be redeveloped into a unique mixed-use building for South Africa, including 520 affordably priced residential rental apartments, a floor of coffee shops, restaurants and recreational areas, retail, child care facilities, a public park and integrated public transport facilities.
Talis Property Fund chairperson Tebogo Mogashoa emphasised that Divercity was passionate about including art in its projects, and seeks ways to bring sculptures and the like back into the city's space.
Absa will also be leasing back nine floors with 10 000 m2 of office space in the redeveloped building.
Once completed, the development will be valued at over R400-million.
Mogashoa enthused that Divercity is taking derelict and non-fiscal contributing buildings, and developing it for beneficial use, which will also benefit the city's economy. "These developments will be the next big thing for the city of Johannesburg."
"We are constantly looking for ways to express who the new Absa is and what we stand for," said Absa Corporate Real Estate Solutions head Wendy Cuthbert. She indicated that Divercity's redevelopment plan fitted with the company's desire to not only develop necessary space for the company, but also to benefit and give back to the community.
Atterbury CEO Wouter de Vos emphasised that developing the "iconic" Absa building is indicative of Divercity's vision, and further, illustrates Absa's commitment to remain in the city centre and contribute towards its development.
The project will begin in early 2019, with Absa expected to reoccupy the towers early in 2020. The 20 floors dedicated to residential accommodation and recreation will be launched in various phases.
Besides creating an inclusive new world-class 'live, work, play' environment, the project is also designed to enhance the area as a whole. As part of a wider neighbourhood development initiative, a pedestrian-friendly walkway with street furniture, lighting and art will be created from Absa Towers Main all the way to the nearby Maboneng fashion district. This urban intervention prioritises pedestrians and people of the local community above vehicular traffic.
JEWEL CITY PROJECT
Between Absa Tower Main and Maboneng is Jewel City, the former heart of the diamond and precious metals trade in Johannesburg, which spans six city blocks that have been closed off to the public for decades.
Divercity acquired Jewel City from Redefine Properties and the property transferred on October 1.
Jewel City will reopen to the public as a mixed-use precinct with a fully pedestrianised streetscape and a total development value of over R1.2-billion once fully completed.
The project includes the redevelopment of existing buildings as well as the construction of over 40 000 m2 of new buildings in the precinct.
The rejuvenated Jewel City will include an abundance of amenities such as a school, clinic, gym, parking and convenience retail, as well as fast food and other restaurants.
It will also include 20 000 m2 of commercial space, 1 200 new residential apartments in Phase 1 and up to 1 000 in Phase 2. The pedestrian-friendly walkway between Absa Tower Main and Maboneng will pass directly through it.
Work on the Jewel City project is set to begin in November.
In the next 18 months alone, with these two projects, as well as R400-million of residential accommodation under development in Maboneng, Divercity will launch more than 75 000 m2 of new residential space in Johannesburg – more than 2 500 apartments in total.
Mogashoa explained that creating affordable rental accommodation in a mixed-use precinct in a central city location gives wage-earning employees the opportunity to live close to work, a rarity by global standards, and in South Africa. Above the luxury of offering a short walk to work, the pedestrianised precinct is also integrated with public transport for those who travel further.