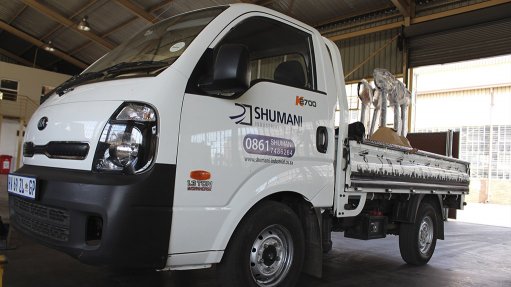 BETTER AND BETTER Automation in the construction industry will drive efficiency and performance
Statistics South Africa's report on the construction industry last month shows a drop in activity related to nonresidential building, as well as construction work being constrained in the second quarter.
"When comparing the construction industry of today to what it was five years ago, it is a very different environment, given the downturn in the economy. Many of the companies we previously did business with no longer exist or are under business rescue and, as a result, we were forced to find new clients," says industrial equipment distributor Shumani director Victor Nemukula.
The challenge, therefore, is that Shumani has to continuously reinvent itself to meet client demands, with the company geared towards automation in the industry for operations and equipment that are cost efficient.
"Automation is an area that we are constantly focusing on by talking to clients and suppliers, which I believe will give us an advantage."
Nemukula notes that automation in the construction industry will drive efficiency and performance: "Automation will drive down costs and kick-start the growth of the sector."
He warns that automation will lead to worker displacement if not handled properly. "There is a high level of unskilled labour that could easily be replaced by machines in this industry, so job losses will be inevitable."
However, automation will create demand for new skills sets, which will need to be developed immediately. "The construction employee of the future will need to have a different set of skills – such as computer skills – to survive."
Engineering News reported in August that Shumani Industrial Equipment had not implemented any new technology yet but was in continuous talks with suppliers to ensure that only the latest equipment and technology was being distributed locally.
"We hope to be one of the first companies to introduce any form of cutting-edge technology to provide our clients with a competitive market advantage."
Nemukula believes that the construction industry will show positive growth in the third quarter of 2019: "There is a lot of opportunity for our business in this industry. We need to start investing in the next phase of growth to take advantage of this growth opportunity."