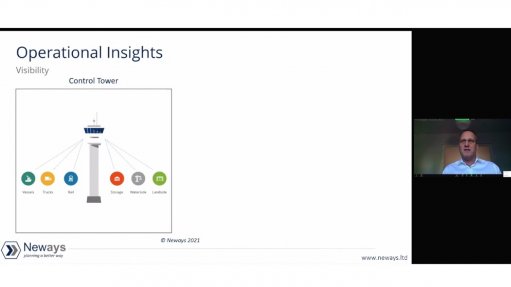 Jeremy Basckin
Digitalisation provides an opportunity to improve manufacturing and supply chain processes.
Companies in these sectors have, as a result of the Covid-19 pandemic, had to quickly adapt to using new technologies, which has driven increased digitalisation efforts, speakers noted during a webinar hosted by SAP and OneConnect on September 8.
Professional body for supply chain management Sapics president MJ Schoemaker said that, over the past two years, the world has been in a state of volatility, uncertainty, complexity and ambiguity, or Vuca.
She noted that this was a state characterised by constant, unpredictable change that had become the norm in certain industries and areas of the business world.
Schoemaker said anecdotal evidence indicated the South African businesses of all sizes had experienced supply chain disruptions owing to the pandemic.
Moreover, that was exacerbated by the recent unrests in KwaZulu-Natal and Gauteng, which disrupted the supply chain from the beginning to the end.
Therefore, Schoemaker said the Vuca state demanded that companies avoid traditional, outdated approaches to management and leadership, and day-to-day working.
Instead, it demanded that they focus on risk management, understanding the organisation's weaknesses and creating transparency to be able to anticipate and react quickly to changes.
She explained that volatility had to be countered with a compelling value and visions for people; uncertainty had to be met with understanding; complexity reacted to with clarity; and ambiguity fought with agility.
Schoemaker emphasised that a smart supply chain was one that was transparent and efficient.
She said these elements would enable the organisation to harness the power of the cloud to enable a comprehensive, data-driven business.
There was also a drive for maximum visibility through a hyperconnected supply chain, she said, rather than working in silos.
Most importantly, supply chain optimisation meant being able to deal with anomalies rather than the norm, Schoemaker emphasised, noting that, as these anomalies were likely here to stay, it was important to know how to manage them and adapt to these.
She highlighted that the smart supply chain would take care of the larger data points and allow for self-optimisation to some extent.
This, she said, would make it easier for supply chain professionals to deal with smaller, sudden changes and disruptions they face daily, more effectively.
INDUSTRY SOLUTIONS
Meanwhile, SAP Europe, Middle East and Africa South business development manager Carlos Portillo said the company's approach to Industry 4.0 included the move from factory-focused initiatives to a company-wide, competition-beating business strategy.
It was also aimed at combining manufacturing automation with enterprise business execution.
SAP's strategy for Industry 4.0, which it calls Industry 4.Now, goes beyond smart manufacturing in factories and plants. It connects production with end-to-end process execution across the supply chain – so that companies can reach a new level of connectivity and adapt to change quickly, Portillo explained.
SAP has designed four main areas around Industry 4.0 and, within each of these, it has a set of trends and challenges, applications, and SAP solutions to meet all business needs.
These four areas are intelligent product, intelligent factory and logistics, intelligent assets and empowered people.
Intelligent products are highly customised products that are detailed, individualised and with advanced capabilities that require advanced information technology, Portillo indicated.
He added that intelligent factories were agile, adaptable and ready to support different production scenario. These were also elastic and able to deal with various production volumes and manufacturing technologies, he added.
With regard to intelligent assets, Portillo said that, in many companies, the actual asset health was unknown and data was collected and handled in several silos. This, he said, led to considerable amounts of avoidable downtime and inefficiency.
In terms of empowered people, he said that, no matter how far automation progressed, manufacturers would always need people.
Operators would fill roles that cannot be automated, completing complex tasks and making intuitive decisions, he said.
Therefore, as businesses' most important resource, they must be given the tools needed to do their jobs effectively, he said.