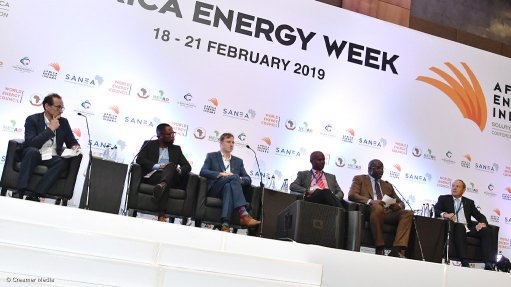 Photo by: Dylan Slater
Digitalisation within the African energy sector is accelerating at a rapid rate, creating demand for innovation and adaptation to new market technologies and the development of new skill sets within organisations, Trade and Industry Policy Strategies executive director Saul Levin told delegates at Africa Energy Indaba, on Tuesday.
By adopting digitalisation, $300-billion could be added to Africa's economy by 2026. However, prominence should be given to an African approach to maximise the benefit for Africa, a panel discussion led by Levin found.
Ericsson government and industry relations head Shiletsi Makhofane questioned whether Africa was digitising fast enough. "There are elements required from the consumers' perspective and also elements from the industry's perspective and only then can infrastructure be installed to enable Fourth Industrial Revolution (4IR) technologies."
"There are also differences in the maturity in markets, as well as policy perspective in every country. Policy needs to be aligned to connectivity availability for consumers.
"Ericsson has analysed Internet of Things numbers (mobility report tracking connections and amount of traffic on networks) and found that there are currently 4.1-billion Internet connections in the world, which influences respective energy sectors across the world," Makhofane explained.
In terms of the impact of connectivity, he mentioned that digitialisation would bring a lot to the energy sector, especially around how consumers were communicated to, as well as their channels of communication to utilities.
InAfrica Holdings founder and MD Dr Louis van Pletzen pointed out that 500-million people in Africa had mobile phones and that there were 400-million people with Internet access, which held a great opportunity for energy providers.
He added that equipment in the energy sector was already reliant on data and that it was not a distant notion of the future. For example, modern gas turbines use 50 GB of data a day and a level-five autonomous electric vehicle uses 4 TB of data a day. "As we transfer to digitalising utilities and economies, having fast access to information, the consumer can be accessed by the utility, while consumers can drive electricity use efficiency."
Senelec director-general Mouhamadou Cisse noted that, in Senegal, energy was especially harnessed for economic and social development. "Customers are not often enough taken into consideration in policy frameworks and business models in the sector. We have an opportunity to solve this through digitalisation by government and utilities.
"We have problems of electricity, Internet and water access, but Internet access can facilitate the solving of problems across all sectors."
Sasol instrumentation group manager Oratile Sematle highlighted that Africa tended to be looked at as one big concept, but there were vast differences between countries, which would mean different uses for technologies.
"For example, in Kenya, the energy mix mainly consists of wind but also kerosene, paraffin and wood, which makes their need for technologies different. How can we use technology to drop the cost of energy production (from wind) in Kenya, to make it more accessible to the population? Only 20% of the Kenya population has access to electricity.
"In Nigeria, the private sector are the main producers of power. The national grid is running but they rely on their own produced power and the grid serves as a backup. You have a lot of solar mobile charging stations in Nigeria. So how do we then bring the pockets of different energy mixes together and ensure a real-time energy mix?"
Sematle pointed out that in South Africa the circumstances were again different, with a monopolised energy sector.
"However, South Africa also has pockets of excellence in other types of energy sources such as wind and nuclear. To some degree, we are more ready for technology adoption than other countries, so how do we transition to data-driven energies?"
Sematle also mentioned that, in Africa, localisation was a big issue. International solutions would not necessarily be successful, since they were not attuned to the macroeconomic conditions or the particular needs of that country, he said.
Moreover, he noted that decentralisation in South Africa would continue to put pressure on Eskom and, if decentralisation were to be successful, there would be greaterscope for digitalisation.