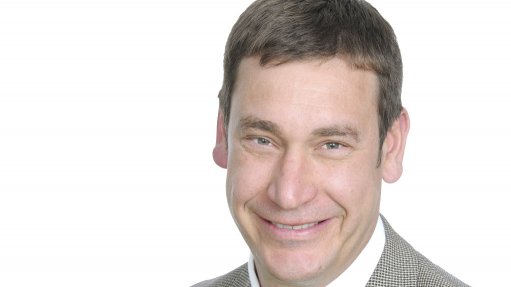 FRANCOIS HEYNS It is not necessarily a case of building more infrastructure, but rather improving the efficiency of existing railways
Rail infrastructure in South Africa is trending towards smart digital technologies that will influence the industry positively, says consulting engineers company Aurecon.

"The integrated three-dimensional (3D) designs used particularly in South Africa are being used to plan and model rail infrastructure. While this technology is also used on road and construction projects, it is more opportune in rail infrastructure," says Aurecon technical director Francois Heyns.
He points out that everything – from electrical works to signalling lines – can be created using a live 3D model of the project. While rail infrastructure is linear, it can become very congested in near platforms; having a spatial reference of all the services within a 3D model can greatly reduce the number of clashes and improve building and operating efficiency.
Moreover, Heyns says technology on new signalling systems and wayside equipment improves the performance of existing rail lines.
Technology for Different Purposes
In terms of heavy haul in South Africa, Heyns notes that the country depends heavily on rail to transport bulk commodities.
"Having bulk commodities, such as iron-ore and coal, as an 'anchor tenant' helps with the feasibility of rail. However, with the downturn of commodities in South Africa, more heavy-haul rail projects are placed on hold and we do not foresee big expansions happening soon."
With regard to passenger rail infrastructure, Heyns predicts continued growth if government provides support, as well as private–public partnerships to ensure that projects are brought to fruition.
"South Africa is competing internationally with passenger railways and commodity railways. Therefore, we need to invest in signalling technology to reduce driver errors. These technologies are yet to be used in many parts of the world, so we are ahead of many in that regard."

Further, the switch to renewable energy is cutting down the demand for transported fossil fuels. Regenerating trains are used locally and internationally. When a regenerating train goes downhill, electricity is generated and fed into the electrical overhead line and grid.
This energy is then available from the same electrical overhead line when the train goes uphill. In many cases, excess energy not used by the trains on the same line is converted into heat, which is subsequently lost, but technology to capture energy is available and, therefore, implementation depends mostly on financial feasibility.
There are also hybrid configurations that use diesel and electric locomotives, which are more environment friendly.
Heyns concludes by predicting that, in the next few years, South Africa will continue to invest in the upgrades of existing rail infrastructure to ensure more efficient rail networks.