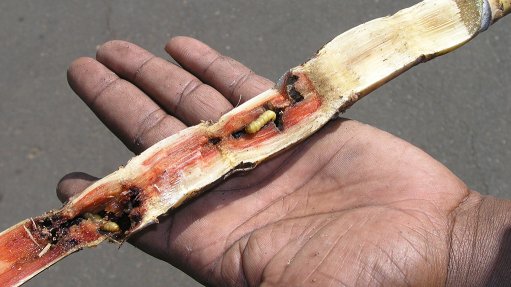 PESKY PROBLEM The Eldana saccharina larvae bore into sugar cane and can ruin entire crops
The South African Sugar Research Institute (Sasri), a division of the South African Sugar Association (Sasa), is focusing its research and technological development on digital agriculture to support cane growers in decision-making, in their choice of cane varieties, to establish more accurate crop yields and in managing pests and diseases.
In terms of sugarcane pest and disease management, Sasa executive director Trix Trikam says one of the greatest challenges facing canegrowers is yellow sugarcane aphid infestation.
"Sasri is aiming to develop a computer-based tool for predicting yellow sugarcane aphid outbreaks in advance using weather and crop management data, providing additional guidance for proactive treatment decisions," he tells Engineering News.
Yellow sugarcane aphids are native to North America, with the first reported discovery of the pests on sugarcane in Africa being in Morocco, in 2006. The first reported cases of infestation in South Africa occurred in 2013, in Umfolozi, Pongola and Upper Tongaat, in KwaZulu-Natal.
Initial cases were sporadic, making research difficult. However, by 2017, infestations were widespread and large, reaching beyond KwaZulu-Natal into Mpumalanga by 2018.
Sasri has conducted and continues to conduct significant research into the problem. This includes research on yield losses, varietal resistance, the transfer of the sugarcane mosaic virus, insecticide tests and natural predators.
There is limited information regarding the susceptibility of local varieties because yellow sugarcane aphids are a relatively new pest to South Africa. Sasri said in a statement issued in October that growers would be kept up to date as research progressed and new information became available.
Pest Control
Sasri does, however, believe that some factors predispose sugarcane fields to becoming infested by yellow sugarcane aphids. For example, plants with moisture stress – either dry or waterlogged – are considered susceptible to infestation.
Another factor contributing to infestation is whether plants are grown in sodic or saline soils, while plants grown on soils with subsoil acidity are also susceptible.
The excessive application of nitrogen or deficiencies in phosphate and potassium can also increase the chances of aphid infestation.
Undulating terrain with on-slope temperature inversions can also increase the likelihood of an outbreak.
Sasri is also helping canegrowers mitigate the risk of Eldana saccharina – commonly known as the African sugarcane borer – the species of moth of which the larvae bore into sugarcane and pose a significant threat to crop health.
South Africa first experienced outbreaks of Eldana in the late 1930s in the Umfolozi river flats, in KwaZulu-Natal, after which it was considered to be a pest in the early 1940s.
Currently, Eldana is the most serious insect pest in the South African sugar industry.
Sasri estimates that, on average throughout a season, for every one Eldana among 100 sugarcane stalks, 0.5 t/ha of sugarcane is lost. A severe infestation can destroy an entire crop, while such damage may become more severe during drought because stressed sugarcane is particularly susceptible.
In this regard, Sasri is developing an Eldana risk index to inform the potential future roll-out of Bacillus thuringiensis genetically modified cane, which is Eldana-resistant, to regions most at risk.
The risk index will also serve to inform the development of a monitoring system for pest numbers once genetically modified cane is deployed, Trikam explains.
The risk index development project is being funded by Biosafety South Africa, a unit of the Technology Innovation Agency of the Department of Science and Innovation.
Sasri published an updated free-to-download manual on its website for successful Eldana control in July.
Further Efforts
Trikam says Sasri is also using participatory research methods as a basis for ultimately empowering canegrowers to develop solutions for the control of various weeds, diseases and pests, as well as for the management of cane variety and irrigation.
"In terms of sugarcane variety choice and management, Sasri is developing a Web-based application to enable small- and large-scale growers to easily compare variety information as a means of facilitating decision making regarding variety choice," he says.
Variety management is key because unexpected outbreaks of pests can be mitigated to some extent by the frequent release of new varieties. Sasri encourages canegrowers to plant a newer variety every time they eradicate and replant a field.
In a statement issued in September, Sasri said it "strongly recommends that no more that 30% of the area under cane on a farm or across a region should be planted to a single variety. In this way, the economic impact of a sudden outbreak of a pest or disease is reduced".