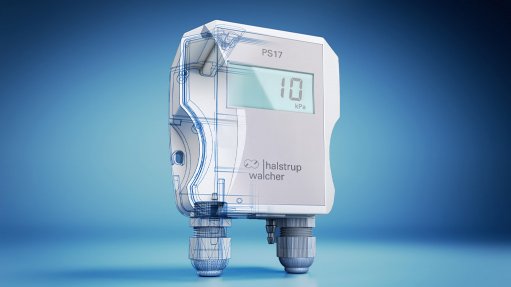 UNDER PRESSURE The differential pressure transmitter can be used in various industries and applications
Industrial equipment supplier Vepac Electronics offers measuring technology manufacturer halstrup-walcher PS17 differential pressure transmitters to the South African market.
PS17 differential pressure transmitters are used for regulating heating, ventilation, and air-conditioning systems and for monitoring filters. The devices can also monitor under and overpressures in cleanrooms or mini-environments.
The company boasts that the PS17 differential pressure transmitter is a device with useful options and features, and suitable for basic industrial applications.
It measures differential pressures between 50 Pa and 10 kPa. The measurement precision of the piezoresistive silicon sensor system is extremely high, at 1% of the final value, and remains highly stable over the long term, a marked improvement over its predecessor, the PS27.
The switchable version of the PS17 differential pressure transmitter allows customers to select the right measurement range from four different options. In addition, the output signal can be adjusted within a range of 4-20 mA or 2-10 V through a dual in-line package switch, or, if requested, as a root-extracted characteristic curve.
Users can also fine-tune the final value by 5% and perform zero-point calibrations by pressing a button on the interior of the housing.
Further, the new, robust housing snaps into place, making it easy to open, which saves time.
Two horizontal and vertical holes drilled into the housing exterior allow users to mount the unit on a wall without a mounting plate. The device can also easily be mounted on top-hat rails, and its ingress protection (IP) or dust rating of IP65 means that it can be used indoors or out.
The instrument comes with several options: in addition to a relay or measurement display, the PS17 differential pressure transmitter can also be equipped with a direct current or direct current converter, making it suitable for applications requiring galvanic separation. Delivery can also include certificates of calibration, either from Germany's national accreditation body DAkkS or from the company's own laboratory.
Vepac Electronics have qualified technicians on hand should a client have any questions or be interested in calibrations or adjustments.