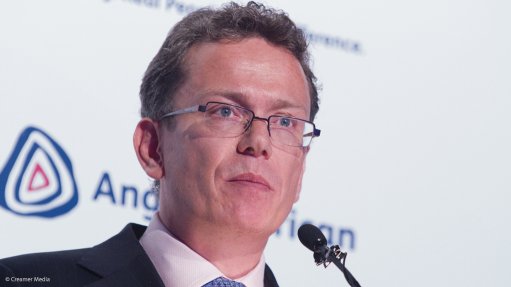 Andrew Hinkly
Photo by: Duane Daws
JOHANNESBURG (miningweekly.com) – A breakthrough that gives stored hydrogen diesel-like characteristics for safe and efficient long-term energy storage, is rekindling excitement that the introduction of new clean energy from platinum-based hydrogen fuel cells may be close at hand.
Liquid organic hydrogen carrier (LOHC) technology is seen as the probable code cracker for the entry of efficient, versatile and scaleable hydrogen fuel cells that will ensure the new generation of clean, reliable and cost-effective power that the world is crying out for.
Owing to its diesel-like nature, LOHC can be transported and distributed in the existing infrastructure for oil-based fuels.
JSE-listed Anglo American Platinum (Amplats) announced on Monday that it had fully funded Hydrogenious Technologies' first financing round after earlier this year committing $100-million to support early-stage industrial applications that enable the use of platinum-group metals (PGMs).
"This technology may be the long-awaited solution to efficient, safe and cost-effective hydrogen storage," Amplats executive marketing head Andrew Hinkly told Mining Weekly Online in a media release.
Amplats' mines could be ideal users of the LOHC-based off-grid energy solutions, Bryanston Resources director Fabian Kröher said.
Amplats has already gone the hydrogen route in developing fuel-cell-powered locomotive and dozer prototypes for its own mining operations, where battery bays could in time be replaced by underground hydrogen-fuelling bays.
Amplats PGM Development Fund – a private equity fund managed by Douglas Investments and advised by co-investor Bryanston Resources – has already provided seed capital for greater PGM offtake to Primus Power of the US, which has a PGM-using flow battery that offers value at many locations on electrical power grids.
Co-investment has boosted Amplats' current $30-million on offer as a result of Bryanston Resources chipping a further $20-million into the fund, giving it considerable firepower.
Hydrogenious Technologies CEO Daniel Teichmann said the Amplats investment would enable his company to get its products out into the market.
"This really gives us an ideal starting position to make our business successful," Teichmann added.
On the latest breakthrough, Hinkly said it could lead to the use of hydrogen as a mass-fuelling solution.
"Our interest in the success of platinum-based fuel cells for stationary and longer-term mobile applications could be well served through this type of hydrogen infrastructure solution," Hinkly added to Mining Weekly Online.
Hydrogenious Technologies – the high-tech spin-off from the University of Erlangen-Nuremberg, Germany, which also holds a stake in the company – will use the new funding to support its 'HydroStore' energy storage system to full commercial product stage.
The technology is focused on the safe storage of hydrogen, a frequent energy storage medium.
While existing technologies store hydrogen either under extremely high pressures of up to 700 bar, or in liquid form at –253 °C, this technology binds the hydrogen molecules to LOHCs, which facilitate safe, easy-to-handle, high-density energy storage at ambient conditions, addressing the existing challenges associated with storing gaseous hydrogen.
HydroStore, which stores energy generated from renewables in a power-to-power storage regime, offers flexibility to decouple input and output power from the storage capacity, making it a widely applicable energy storage system, which contributes to electricity grid stabilisation and grid independence.
The breakthrough technology has been developed and optimised by Teichmann and the university's professors Peter Wasserscheid, Wolfgang Arlt and Eberhard Schlücker, together with their research teams at the University of Erlangen–Nuremberg.
Fundamental aspects of the technology have been developed at the Bavarian Hydrogen Centre, a cross-institutional research platform focusing on the development of a sustainable hydrogen economy and within the framework of the Erlangen Excellence Cluster 'Engineering of Advanced Materials'.
Hydrogenious Technology will continue its close research co-operation with the University of Erlangen-Nuremberg to ensure technological leadership in LOHC energy storage.
The collaboration is underlined by a fully fledged prototype of the LOHC energy storage system, currently being installed by the University of Erlangen-Nuremberg.
Initially set up in 2009 to stimulate new PGM-using businesses in South Africa, Amplats' PGM Development Fund has since realised the worth of stimulating international market demand, specifically in the industrial sector, where it provides start-up capital for investments in new PGM-using or PGM-enabling technology businesses.
Lesser known iridium and ruthenium PGM metals are used in the Primus products, which are able to store electricity from utilities like Eskom during non-peak periods, for use during peak periods, as well as store renewable energy, for example sun energy while the sun is shining, for use after dark.
Investing in the development of PGM markets is critical in ensuring sustainability of the South African platinum industry and supporting the green economy of tomorrow, to which PGMs are indispensable.
All investments are carefully structured with milestones met before funding is provided.
The Primus range has universal application but there is a need for it to come down the cost curve.
Other current investments have been in the Vancouver-based fuel-cell company Ballard Technologies and the US-based stationary fuel-cell company Altergy Systems, which supplies telecommunications back-up systems.
Amplats is working closely with Ballard on stationary power for rural off-grid areas and a 34-household farming community near the Free State town of Kroonstad, which has created South Africa's first mini-grid application.
Protea Chemicals – which already supplies methanol to telecommunications back-ups and is well versed in fuelling safety and logistics – will be the methanol supplier.
Amplats has co-invested with South Africa's Science and Technology Department in the South African fuel-cell company Clean Energy Investments, which has a distribution agreement with Altergy for the telecommunications back-up sector.
Some 800 platinum-using fuel-cell installations are already up and running in South Africa and Amplats envisages local fuel-cell manufacture once there is sufficient offtake.
A barrier to fuel-cell use in South Africa, however, has been the lack of a fuelling solution, which the LOHC breakthrough ends.
But even well ahead of the LOHC announcement, fuelling infrastructure and fuel-cell companies have been partnering with fuel providers so that fuel cells can be marketed with pre-priced fuelling support.
In transport, Amplats' London office has a four-year lease on a fuel-cell car as part of London's hydrogen-network initiative, in which Hyundai is supplying fuel-cell-driven cars to several UK companies as a testing exercise, which also involves the building of additional hydrogen stations in London.
A new building at the top of the University of Cape Town's (UCT's) upper campus forms the backdrop to one of the components of Hydrogen South Africa (HySA) Catalysis Centre of Competence, part of the South African government's programme in hydrogen and fuel cells.
UCT Faculty of Engineering and the Built Environment and Mintek, the national research and development organisation for mineral processing, are among the co-hosts of HySA, which hopes to capture 25% of the global fuel-cell and hydrogen catalyst market by 2020.
When the fuel-cell technology industry takes off, it is expected to be a multibillion-dollar market.
While many countries and academic programmes have their eye on capitalising on this market, they do not have the advantage that South Africa has of hosting the lion's share of global PGMs.
Fuel cells, which provide environmentally clean and extremely reliable power that can be used in many ways, are currently being implemented in the automotive industry by Toyota and Hyundai to produce commercial vehicles, but the cost for these models is still quite high and needs to come down.
It is seen as imperative that South Africa is ready to enter the market at the same time as the rest of the world, which was why the South African government launched its 15-year plan in 2008.
In a separate initiative, Amplats has appointed Rand Refinery to administer its platinum metal financing scheme that provides access to affordable metal financing for local manufacturers, which includes support for local jewellery training institutions.