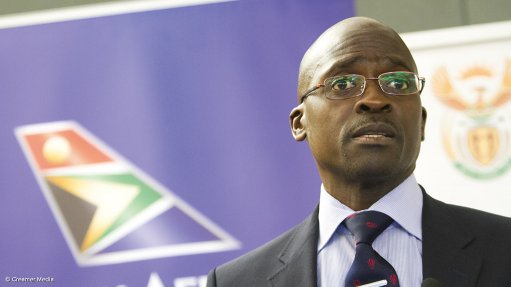 MALUSI GIGABA The Public Enterprises Minister called for a private–public partnership plan with real and meaningful partnerships between the public and private sectors in the infrastructure of the maritime sector
Photo by: Duane Daws
To accelerate economic growth, South Africa has to develop infrastructure and transport logistics so that its ability to compete globally is improved, says South Africa Chamber of Commerce and Industry (Sacci) CEO Neren Rau.
"Fast growth necessitates road and rail links that are continually improving, but the new infrastructure needs to be provided at reasonable cost. The problem with a system like e-tolling [of arterial roads] is that it will drive up the cost of doing business in South Africa," he explains.
Meanwhile, the South African National Road Agency Limited (Sanral) argues that such tolling is necessary to fund road infrastructure moving forward and that opposition to e-tolling is damaging the viability of the agency itself and of future private–public partnerships (PPPs).
South Africa's Government News Agency reported in August that a tiny fraction of drivers would end up paying the capped R450 a month to use the road, with most users paying R100 a month. The findings were based on actual data from Sanral's toll collection system and were collected over two months.
Sanral communications GM Vusi Mona explains that, of the 2.5-million vehicles checked in this manner, only 4 700 vehicles will pay R450 a month. If an individual is one of those who pays the full amount, he or she must have travelled through 301 gantries and must have completed an average of 2 760 km during the month on the e-tolled roads.
"Sanral has been able to determine what motorists will pay monthly using plate recognition – 82.83% will pay less than R100, 10.10% will pay between R101 and R200, 1.82% will pay between R201 and R300, and 0.59% will pay between R301 and R450," he points out.
Speaking at Sacci's 2013 Annual Convention last month, Rau said that Sacci believed that multinodal freight options should be considered in the development of transport infrastructure because it seemed as if South Africa was biased towards road transport.
He noted that road transport was the most competitive solution to long-distance transport needs currently because of the inefficient way in which rail was managed, which saw businesses discontinue the use of rail as soon as road transport became available in the 1980s.
Rail Versus Road
In the past decade, South Africa's roads have dominated land transport, according to 'The Report: South Africa 2013', published by Oxford Business Group (OBG). However, if government's plans come to fruition, the country is set for a rail revival in the next two decades.
Government entities concerned with rail travel, such as the freight logistics company Transnet Freight Rail and the Passenger Rail Agency of South Africa (PRASA), have publicly announced their plans to increase rail use in terms of transporting goods and lessening the dependence on roads.
PRASA is also working on an overhaul of rail passenger services in the country. The company has set a target of investing R123-billion in 7 224 electrical multiple units between 2015 and 2035.
In December last year, the Gibela Rail Transportation Consortium – consisting of French firm Alstom and its local partner Actom – won a R51-billion contract to provide 3 600 coaches between 2015 and 2025, as well as managing maintenance and technical support between 2015 and 2033. The contract is expected to produce 8 088 direct jobs and help PRASA address its dated rolling stock for Metrorail operations in Gauteng, KwaZulu-Natal, the Western Cape and the Eastern Cape, as about 90% dates back to the late 1950s, says OBG.
Meanwhile, Transport Minister Dipuo Peters mentioned in her speech during the Sacci convention that government's reworking and reshaping of the infrastructure that was installed by the apartheid government had been significant in the past 20 years, as it worked on developing all forms of transport in the country, with substantial success.
"The Department of Transport has integrated all government interventions into its mandate to propel infrastructure that will be instrumental in the economic growth plan set by government," she said.
Meanwhile, the development of infrastructure in the maritime sector is under way. In December last year, Public Enterprises Minister Malusi Gigaba suggested that the planned R75-billion Durban dig-out port be built using a PPP model. Gigaba called for a PPP plan with real and meaningful partnerships between the public and private sectors to unlock their common balance sheets for the good of the country and the economy.
Aviation Sector
"The aviation sector contributes R50.9-billon to the gross domestic product (GDP), which, in turn, contributes 2.1% to the GDP. When catalytic benefits, such as tourism spending, are included, this increases to R74.3-billion, which is 3.1% of the country's GDP. This comes on the back of solid performance by local airports, where total departures from facilities owned by Airports Company South Africa increased by 3% for the 2012 financial year, while landings declined by 1% from the previous year," says OBG.
"Our R22-billion airports are the talk of many worldwide, as their infrastructure has proven to be of a world-class standard," Peters pointed out at the convention.
Meanwhile, the closure of several low-cost carriers should offer national carrier South African Airways (SAA) some respite on domestic routes in the short term, as the supply of passenger seats aligns with demand. Nonetheless, new operators are already eyeing the market to compete with SAA's subsidiary Mango and aviation company Comair in the low-cost passenger segment.
Subsidiary of London-based Lonrho, FastJet, has made its intentions to enter the South African market clear, while founders of low-cost airline 1Time Airline, which ceased operating in late 2012, created a new company called Skywise. The company hopes to open domestic and regional routes by the end of this year.
"Overall, the transport sector remains a key component of economic development and growth in South Africa. According to Statistics South Africa, the sector contributed 8.3% to nominal GDP in 2012, which is an increase of 4.6%, compared with the previous year," OBG points out.
With the National Transport Master Plan under consideration, and Peters recently calling on business to provide input, she noted that the transport sector would remain pivotal in the country's economic growth and would be instrumental in unlocking infrastructure at a steady rate across all transport subsectors involved.