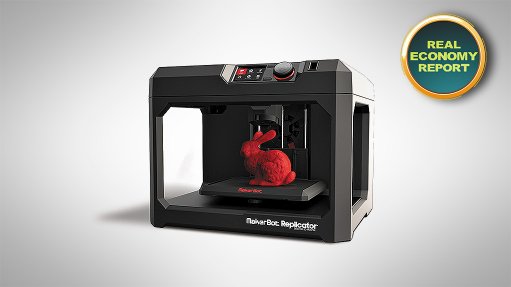 From Creamer Media in Johannesburg, this is the Real Economy Report. Electronics distributor Rectron brings 3D printing to consumers and industries with the launch of its latest offering, the MakerBot range of 3D printers. Schalk Burger has the story.
Schalk Burger:
Three-dimensional printing is a form of additive manufacturing and involves tiny filaments of plastic laid down layer-by-layer based on a computer-assisted design model.
It is predominantly used in secondary and tertiary education in the US, but 3D printers are increasingly being used in the architecture, design and manufacturing industries.
This method of manufacturing enables objects to be created that are difficult to produce with other manufacturing techniques, but increases the time to manufacture objects.
While the machines only print in PLA or ABS plastics, US manufacturer MakerBot says that it is testing and developing extruders that will be able to print wood polymers, ceramics and metal alloys within five years and can then be fitted to its current range of 3D printers. MakerBot has already released PLA plastics that look like limestone, wood or bronze once printed.
Further, because designs can be printed on any 3D printer, engineers, architects and designers can send the electronic designs to their partners across the world who can then each print out the design to assess the product or design. This could enable teams of skilled people in many territories to contribute to product development and localisation.
3D printers may eventually also enable the developers of intellectual property, such as inventors and researchers, to set up production in multiple markets quickly through partnerships and, thus, get their products to markets before competing products are developed.
Rectron printers business unit manager Bruce Bradford explains some of the industrial uses of 3D printers and their current role in industry.
Rectron printers business unit manager Bruce Bradford:We are looking at enthusiasts, I mean it makes up a really big market in it. But over and above that really anyone that wants to design something. So, we are looking at engineers, architects, designers, tertiary institutions on education. And also any one that wants to prototype something. So, if you got a design, you can conceptualise something, you got a CAD drawing, straight away print it out and you have a prototype, which you are ready to go to market with.
We have seen a wide use of applications in the engineering market. We have people with water tanks, who were designing water tanks, who have shown us prototypes, which was feedback we got back the other day. Also people that are designing different types of equipment and they want to look at what the applications of it will be in the market, how easy it will be to use. They can then show it to other people and they realise make these changes, make those changes. So, engineering itself is such a big market. The applications are almost limitless.
I am very hands-on, personally, because if you are not hands-on, it is difficult to manage this type of a project... So real-time prototyping is probably one of the primary applications of 3D printing. Conceptualise it, print it out, email the plan to someone in another country, he can make some changes, send it back to you, both print it out, make the changes you want and then you're good to go. When it comes to prototyping, it is not really what the printer costs, but what your cost-savings will be.
Schalk Burger:
While 3D printing will never replace conventional manufacturing entirely, the use of 3D printers could eventually reduce the logistics required to transport products around the world by enabling distributed and customisable manufacturing near demand centres for certain products.
Shannon de Ryhove:
Other news making headlines this week: The 2015 economic outlook is positive for Africa, but not for South Africa; and R5-million worth of bursaries are awarded for studies in the built environment.
While significant growth is forecast for five African countries that form part of the top-ten biggest growing economies in the world, this is not the case for South Africa.
Frontier Advisory's Africa Outlook 2015 forum, CEO Martyn Davies
International Monetary Fund South Africa senior resident representative Dr Axel Schimmelpfenning
Forty matriculants from schools across South Africa have received bursaries totalling R5-million to further their studies in the fields of the built environment from the Department of Public Works, in partnership with the Construction Education and Training Authority.
Public Works Minister Thulas Nxesi
That's Creamer Media's Real Economy Report. Join us again next week for more news and insight into South Africa's real economy.