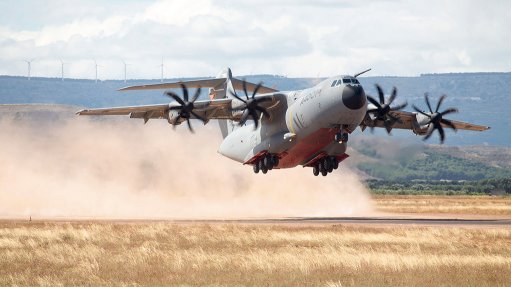 An A400M takes off from an unpaved airstrip
Photo by: Airbus
South African State-owned defence industrial group Denel announced over the weekend that it had reached a mutual understanding with Europe-based major aerospace and defence group Airbus to cease Denel's manufacture of components for the Airbus A400M military airlifter aircraft, "subject to fulfilling applicable legal prescripts". Where the manufacture of these components will be moved to, Airbus has not yet disclosed.
The decision was taken by the two groups in the context of Denel's continuing strategic review of its activities, Denel Group CE Danie du Toit explained. Both parties had agreed that to continue manufacturing the components at Denel was, in its current form, no longer sustainable.
"Alternative options are now being considered between the two parties," stated the Denel press release. Moreover, Airbus and Denel were collaborating in other areas and would not only continue to do so but planned to strengthen and widen their strategic industrial partnership.
The components were currently being assembled at Denel Aeronautics in Kempton Park, east of Johannesburg. They comprised wing-fuselage fairings (WFFs); fuselage top shells; vertical tail-plane ribs, spars and swords; cargo deck floor ISO locks; and the Central Guide Vertical Restraint System.
South Africa joined the A400M programme in 2005 with an order for eight aircraft (which was later cancelled). As a result of that order, Airbus transferred to Denel the skills and technology necessary for the South African company to design, develop and manufacture the WFFs and fuselage top shells. The contracts for the other components were awarded to Denel later.
Denel was now in the process of executing its new long-term strategy that would reposition the group and restore its profitability. This involved the company withdrawing from noncore activities, exiting from core business areas that were not viable, and focusing on core business areas that were viable, thereby providing long-term sustainability. Also, the viable core business areas would be repositioned to improve access to markets and capital. Furthermore, there would be a focus on developing exports by means of joint ventures and strategic equity partnerships.