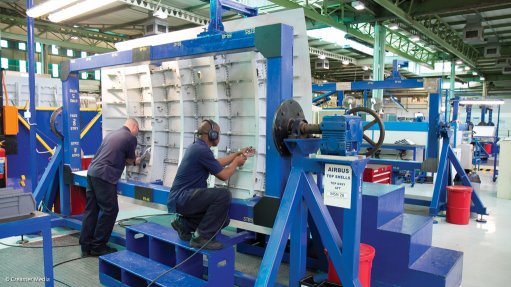 Denel Aerostructures workers assembling a fuselage top shell for an Airbus A400M military airlift aircraft, back in 2013
Photo by: Duane Daws/Creamer Media
Denel reported on Thursday that the closing down of "the greater part" of its aerostructures business had reached "an advanced stage". It gave the assurance that it had taken "major steps" to minimise job losses within the group. The business was being closed because it was not sustainable for the group.
"We have really worked hard in trying to keep job losses to a minimum and some of the employees will be transferred to other positions with the Denel group while voluntary severance packages have been offered," said Denel Aeronautics Divisional CE Mike Kgobe. There will also be retrenchments.
Labour Relations Act Section 189A consultations with organised labour, representatives of non-unionised employees and other stakeholders had been concluded. The process had been facilitated by a Senior Commissioner of the Commission for Conciliation, Mediation and Arbitration.
The Departments of Public Enterprises and Finance last year formally gave the Denel group approval to wind up Denel Aerostructures (DAe). This was done under the Public Finance Management Act's Section 54. Production of the components made by aerostructures had been transferred to other manufacturers in other countries, through mutual agreements with customers.
The decision to wind up DAe was taken in terms of Denel's long-term strategy, explained Group CEO Danie du Toit. This was aimed at repositioning the group and restoring its profitability.
The closing of the aerostructures business will not affect the other businesses and operations of Denel Aeronautics, which is based at OR Tambo International Airport in Kempton Park. These include aircraft maintenance, repair and overhaul for the South African Air Force and other clients.
They also include support for Denel's own Cheetah fighter (still in service, overseas), Oryx transport helicopter and Rooivalk combat (gunship) helicopter. Denel Aeronautics also supports Lockheed Martin C-130 Hercules transport aircraft.