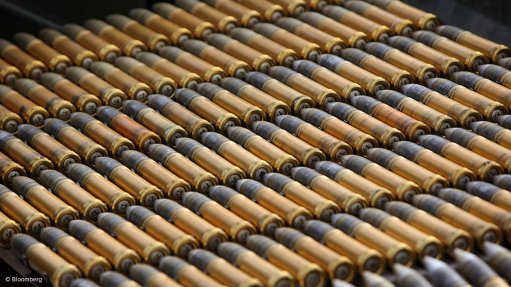 Photo by: Bloomberg
Munitions manufacturer Denel Pretoria Metal Pressings (PMP) plans to dramatically increase its ammunition production capacity in a bid to double its yearly turnover to more than R1-billion in the next five years.
Responding to "strategic requirements" in the local market, Denel PMP CEO Phaladi Petje said on Tuesday that the company would embark on a plant renewal programme to modernise its machinery and munitions production processes.

"We will also increase our research and development capacity. PMP is set to become the ammunition solution partner of choice in South Africa, across the continent and in all of the markets we are targeting," he commented.

The announcement followed the release of government's Defence Review in Parliament earlier this year, which highlighted the need for self-sufficiency in the provision of ammunition, not only to the South African National Defence Force (SANDF), but also to the country's security cluster as a whole.
"PMP is in an excellent position to meet all the SANDF's current and future needs for small- and medium-calibre ammunition.

"We have been in this business for more than 75 years and the experience gained over this period will enable us to meet the challenges emanating from the local defence community," said Petje.

The company also had a "very productive" relationship with the SANDF and South Africa's arms procurement agency, the Armaments Corporation of South Africa (Armscor). It manufactures 7.62 mm calibre ammunition for the well-known AK-47 assault rifle, as well as a 23 mm range of ammunition widely used by African defence forces.
Denel PMP now intended to build a similar relationship with the South African Police Service, metropolitan police forces and the private security industry.
"We can meet almost the entire local demand for small-calibre ammunition in the defence and security sectors," noted Petje.

The group also anticipated the emergence of significant opportunities for its products elsewhere in Africa, having formed "strategic relationships" with companies in Europe and pursuing "similarly mutually beneficial" relationships within the Brazil, Russia, India, China and South Africa, or Brics, partnership.

More than 40% of PMP's current ammunition production is destined for the export market.