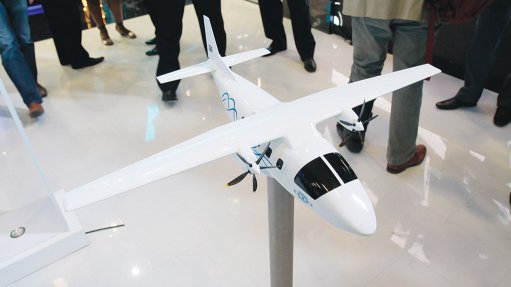 South African aerospace companies Denel Aerostructures (DAe) and Denel Aviation, both part of the State-owned Denel Group, have unveiled a major new project – the South African Regional Aircraft (SARA). This is aimed at meeting a gap in the global market, preserving South Africa's aerospace design and development capabilities, while also stimulating the country's young aerospace engineers and technicians.
"We know how much the development costs will be," DAe CEO Ismail Dockrat said at the announcement of the project. "We have done a first round of market feasibility studies. The next step is a detailed feasibility study."
The project is currently in its predevelopment phase. The companies hope to complete the detailed feasibility study and win wider support from government departments and agencies, the private sector, potential partners, investors and customers within the next 18 months. Then the development phase would be started. The development phase would probably last five years. The result would be a prototype aircraft by 2020 or 2021.
"It's a Denel initiative, but it's not going to be a Denel [only] project," he highlighted. The group will be actively seeking support from other players in government and industry, as well as research institutions, to support or participate in the project. Consultative discussions have already been started. "We obviously also need a launch customer, to order enough aircraft to support its development."
The considerations which led to the idea of the SARA project began some two years ago. The intent was to develop a follow-up to the technically highly successful Rooivalk attack helicopter project, to sustain and further advance the expertise developed in that programme.
"But we also said to ourselves: what are the needs of South Africa into the future?" explained Dockrat. "Should we develop a military aircraft or alternatively should we develop a civil aircraft?"
The decision was to develop a civil aircraft. This would be able to contribute to the improvement of the transport infrastructure and enhance regional mobility in Southern Africa and Africa in general, as well as meet market needs in parts of Asia and Latin America. Research indicated that there was a gap in the global market for an aircraft carrying about 24 passengers.
Currently, three versions of the SARA are planned. A airliner version would carry 24 passengers. A combi version would be able to carry 12 passengers and one LD2 cargo pallet. A freight version would be able to transport three LD2 pallets.
The SARA would have a payload of 8 400 kg, a range of 1 500 nautical miles and be pressurised, so it could fly high and above the weather. It will be certified to undertake scheduled airline operations. Should any military force show interest in the design (now or during the development phase) it would be possible to incorporate their requirements into the design.
The SARA was unveiled at the Africa Aerospace and Defence 2014 show, at Air Force Base Waterkloof, just south of Pretoria.