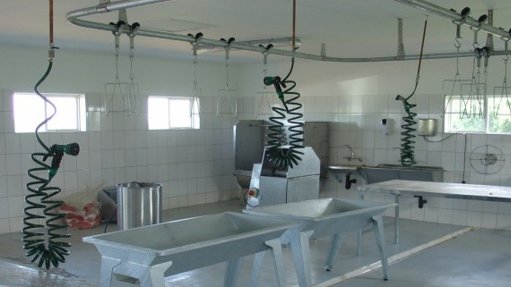 The poultry and fruit juice processing equipment manufactured by Free State-based agroprocessing equipment manufacturer Basils Business Opportunities (BBO) is in high demand, says owner Basil Phupha.
The increasing need for this equipment is in line with the growth of South Africa's agriculture sector, which was the only industry in the country not to contract in the second quarter of this year.
The agriculture sector grew by 15.1%, owing to an increase in maize exports, as well as rising international demand for citrus fruits and pecan nuts, says national statistical service Statistics South Africa.
"Our revenue has grown by 50% in the 2019/20 financial year and it might grow by 100% in the 2020/21 financial year," delights Phupha.
BBO aims to establish itself as the leader in stainless steel food processing, manufacturing and materials handling equipment across Africa.
The company introduced its poultry and fruit juice processing equipment to the local market in 2016.
While similar solutions were already available, Phupha says the development of BBO's poultry and fruit juice processing equipment was inspired by the need for solutions that could save agroprocessors time and money through faster and more efficient operation.
BBO improved on these solutions with the help of the Small Enterprise Development Agency's Agricultural and Mining Tooling Incubator at the Central University of Technology, in Bloemfontein, and its equipment is designed and manufactured according to South African Bureau of Standards industry quality standards.
The company supplies a 450 kg to 500 kg fruit juice finisher, as well as a 180 kg to 200 kg model.
"The fruit finisher reduces tomatoes, fruits and vegetables to a semi-liquid or liquid state, according to customer needs. The process eliminates pits from stoned fruit pulp and separates seeds, skins and extraneous particulate materials from pureed pulp," says BBO's website.
Both units are equipped with a brush pulper, which is used to process soft fruits or vegetables, such as marula, paw paw, guava and tomatoes, into various end products such as pastes and purees.
Meanwhile, its poultry processing equipment includes a titling bowl plucker and bird stunner.
The free-standing plucker has a capacity of between six and eight chickens a minute. The machine, which has lower power consumption than alternative solutions on the market, is driven by a 1.5 kW motor requiring 220 V/380 V of power, and is compatible with single- and three-phase power supply. Single phase motors and other voltages are optional.
BBO manufactures a six-bird and 12-bird stunner/bleeder for the small to medium size poultry abattoir.
The 12-bird stunner has the capacity to handle up to 800 birds a day.
"This poultry processing equipment comprises a stunner head, two bleeding cones and a drain trough. By inserting the live chicken head into the stunner onto the electrodes it is stunned unconscious. Users can select between 110 V and 140 V for different bird types," explains Phupha.
All BBO's equipment is made from food-grade 304 stainless steel, has either 220 V or 380 V of power and motors ranging from 0.35 kW up to 3 kW.
BBO's past clients include Falcon Investments, Negumbo Eudafano Women Marula Manufacturing, Mristo Soap, Matsila Development Trust and Leribe Poultry.
The company also offers packaging and delivery or shipping, product installation and assembly, technical support, equipment operations training, repairs and maintenance, and product design and development.
"We pride ourselves on offering personalised services and quality products, as this has been the cornerstone of our sustained growth," concludes Phupha.