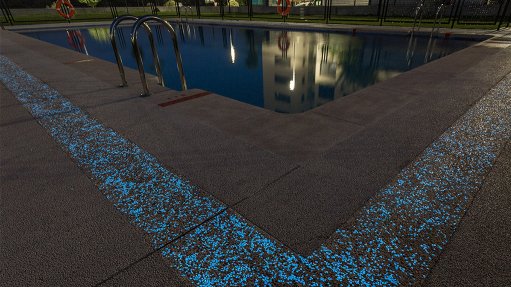 LUMINESCENT LUMINTECH This technology contains particles that are incorporated into the concrete skin and glow in the dark
Decorative concrete solutions can raise the aesthetic value of both new projects and renovations, and construction chemicals company Chryso Southern Africa is participating in the market to supply such solutions for aesthetic and practical applications, company CEO Norman Seymore tells Engineering News.
"Industry is moving away from, for example, ceramic tiles to polished concrete floors, and to screeded walls as opposed to painted surfaces. "There is a great deal of interest in the market for decorative concrete solutions that can be used for not only decorative or aesthetic applications but also practical applications."
He states that practical applications could include garden paths and walkways, pavements, cycle paths and unlit roundabouts. The company has conferred with different municipalities about the possibility of using decorative concrete in road works, such as concrete barriers, for example, he advances.
A solution for these applications, in terms of safety and aesthetics is Chryso's Lumin P and P+ products, which use its recently launched LuminTech technology, giving unprecedented technical and decorative properties in the construction market, says Seymore. LuminTech contains a variety of luminescent particles that are applied to the surface and incorporated into the concrete skin, and glow in the dark.
Solutions for new concrete developments also include textured, previous and coloured solutions. Textured concrete can reproduce authentic mineral atmospheres, pervious concrete is ideal for outdoor residential and urban developments, while coloured concrete is applicable for integral or surface colouring of all types of concrete.
Textured and coloured solutions are also ideal for renovating old concrete surfaces, subsequently rejuvenating the look thereof, and the durability of worn or damaged concrete.
"Chryso will continue to expand its product range and develop the decorative concrete market this year," Seymore adds.

Expanding Exports
Chryso has been expanding its footprint by developing into sub-Saharan Africa, which the company historically regarded purely as export markets.
"Now, we are looking more at developing a long-term, sustainable distribution platform, establishing agents and distributors in these territories, enabling them to have local inventories."
The company is also training and working jointly with the sales teams of its distributors in the region to develop the business from a local perspective in those countries. Chryso established a subsidiary, in Nairobi, Kenya, in 2015, targeting countries like Ethiopia, Uganda and Rwanda. The company aims to supply and service customers in the Democratic Republic of Congo and Tanzania this year.
Seymore adds that Chryso Southern Africa's exports as a percentage of total sales are about 18%, but the company is hoping to increase that percentage to 30% in the next three to four years.
Ongoing Development
The global building sector has changed significantly over the past few decades and, subsequently, so did the expectations of concrete. These changes are continuing and accelerating amid technological developments and modernisation.
Concrete has been developed to be more durable, user-friendly and cost effective, with its application also changing to cater to the societal demands of aesthetics and architecture.
Seymore points out that there will be more significant changes regarding concrete, adding that Chryso's research and development department is exploring three-dimensional printing as one such change.
"We expect that this is an area that the local market will enter and we are examining the possibilities. However, the large-scale application and acceptance of the concept will take time, and for the market to adapt to."
Chryso is continuously looking for growth opportunities to expand into and facilitate, he concludes.