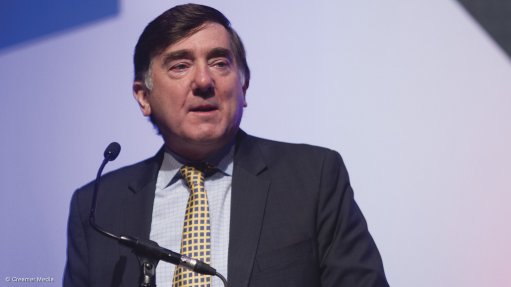 NIGEL BLACKABY The nuclear question, optimal use of renewables and funding for independent power producer programmes are key issues for discussion
Photo by: Duane Daws
The decentralisation of energy generation and determining the optimal energy mix available are crucial for addressing Africa's energy challenges, say industry experts on the advisory board of the upcoming POWER-GEN & DistribuTECH Africa conference and exhibition, in Johannesburg.
"The single-biggest issue in Africa is that we, as a continent, have ample energy resources but very little power. It is tempting to hold up a particular energy technology, such as nuclear or renewables, as the solution. To do so would be to miss the point. "We need to be asking how much of each is appropriate, and identify the optimal energy mix based on needs and available resources," adds Nuclear Industry Association of South Africa MD and POWER-GEN & DistribuTECH Africa advisory board member Knox Msebenzi.
He stresses that, if countries want to drive industrial growth and have access to ample coal reserves, they must invest in clean coal generation. "In massive cities like Lagos, for example, with an estimated population of around 21-million, powering development needs with renewables would be unthinkable – they need baseload. "This is why we advocate a comprehensive energy mix strategy on a country-by-country basis."
POWER-GEN & DistribuTECH Africa brand ambassador Bertha Dlamini points out that most countries on the continent do not have sufficient energy capacity to support their economic growth targets. "One of Africa's top challenges is addressing the scourge of energy poverty. "Decentralised energy generation is the answer to eradicating energy poverty, community by community and industry by industry. Generating electricity with small, modular, renewable-energy solutions makes sense."
She highlights that best practice is to understand local context and deploy technologies in each market that are in line with the maturity level of the country's infrastructure and availability of energy resources. "When designing commercial models for energy projects, it is essential to ensure that each project's finance structure is commercially viable and that the associated risks ensure the success of each project."
In addition, Dlamini notes that collaboration is required between the public sector, private sector and civil society to create project ownership structures that will ensure the success of decentralised energy generation and distribution projects. "Such structures should attract and sustain relationships with local and international investors."
"As part of our fact-finding ahead of POWER-GEN & DistribuTECH Africa 2017, the PennWell team and advisory board members undertook visits to stakeholders in various African countries, where we found that the nuclear question, optimal use of renewables and funding for independent power producer programmes were key issues across the continent. These are among the topics that will come under discussion at POWER-GEN & DistribuTECH Africa 2017," says event organiser PennWell International Power Group director of conferences Nigel Blackaby.