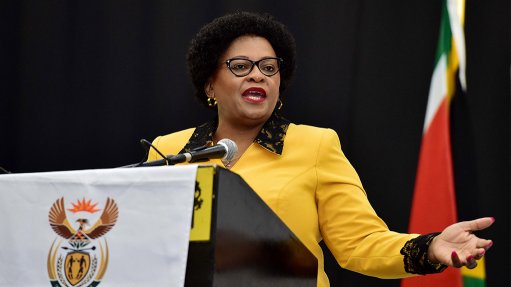 Environmental Affairs Minister Nomvula Mokonyane
Environmental Affairs Minister Nomvula Mokonyane will appoint a panel of experts to provide strategic and technical guidance on the effective management of sulphur dioxide from old and existing power generation plants.
The decision to appoint a panel comes as a result of the challenges faced by chemical and energy sector companies such as Eskom and Sasol.
Energy companies have been unable to adequately and effectively manage these emissions, thereby failing to comply with the minimum emission standards (MES), the Department of Environmental Affairs (DEA) said in a statement on Wednesday.
The panel will conduct a comprehensive review of the effectiveness of the implementation of the postponement provision and the associated emission limits.
It will also advise the Minister and affected companies on identifying and implementing mechanisms, technologies and technical and regulatory tools that will assist in addressing emissions compliance challenges.
Additionally, the panel will advise the Minister on air quality management related matters as they apply to comply with sulphur dioxide emission standards.
It will also be expected to evaluate, assist and identify environment-friendly and cost-effective technologies, strategies, action plans and legal instruments that will assist industry to comply with MES.
ENVIRONMENTAL RIGHTS GROUP RESPONSE
The Centre for Environmental Rights (CER) commented in a letter sent to the DEA director general earlier this year that the country's two biggest polluters, Eskom and Sasol, have received multiple postponements of compliance with MES, and establishing a panel such as this further delays the process of implementation of actions to comply with MES.
The department earlier this year indicated its intent to establish an expert technical panel to consider sulphur dioxide abatement solutions, but the CER said it was unable to understand why an additional expert panel assessment was required, since the necessary action had already been identified.
The CER called on Sasol and Eskom to either retrofit their plants with sulphur dioxide abatement technology or start an expedited plan to decommission their plants that can not meet MES.
"An expert panel would only serve to delay the inevitable costs that Sasol and Eskom must incur to comply with the law," the organisation stated.
The CER added that establishing a panel of experts would duplicate the extensive work that was done in setting up the MES.
It pointed out that the South African MES for existing plants was 17.5 times weaker than those in China, Germany and the European Union (EU); nearly six times weaker than India's; and almost five times weaker than Indonesia's.
The MES for new plants are still 14 times weaker than those in China, five times weaker than those in India, and three times weaker than those in Germany and the EU.
The MES were set in March 2010 and revised in November 2013.
The CER said the proposed panel must resist attempts to weaken any of the MES, it must not allow Sasol and Eskom to be granted any rolling postponements of MES compliance and it must not delay the review of the MES and National Ambient Air Quality Act to make the regulations stricter.