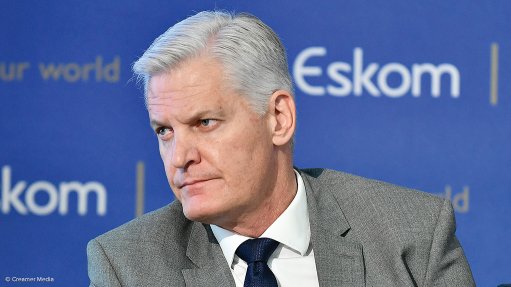 Eskom CEO André de Ruyter
Photo by: Creamer Media
State-owned utility Eskom CEO André de Ruyter wants Mpumalanga to be the focal point for investment in renewable energy generation capacity to leverage the province's well-established transmission grid and to mitigate the potential for mass unemployment in the province as coal-fired power stations are systematically decommissioned over the next decade.
While it has been well-established that the best naturally-occurring wind and solar resources in South Africa are located in the Northern Cape province, the region is poorly served by the existing transmission grid.
Speaking during the virtual launch of a new documentary entitled "Voices from under a dark cloud – towards a just transition in the coalfields of South Africa" on June 21, De Ruyter said Eskom would have to expand the transmission grid in the Northern Cape by building 101 new substations and about 1 000 km of new transmission grid over the next decade if the province were to be the focal point for renewable energy investment.
This would require a significant amount of capital, as well as time – both of which Eskom does not have.
He said there was an urgent need to enable renewable energy projects access to the grid far sooner.
He noted that there was a remarkable confluence of circumstances in Mpumalanga – regarded as the energy hub of South Africa – that amounted to a convincing business case for focussing renewable energy investment on the province.
"We have an opportunity to leverage our existing transmission grid. As we shut down coal-fired power stations, we can increasingly use the grid capacity that is made available by providing access to renewable energy investments in the province. The existing grid is a great enabler of the just energy transition," De Ruyter explained.
In addition to the ability to leverage the existing transmission infrastructure in the province, De Ruyter said that, contrary to popular belief, Mpumalanga had substantial renewable energy resources.
"For a long time, the conventional wisdom was that Mpumalanga doesn't have sunshine and doesn't have wind. Consequently, there has been a lot of pressure from the independent power producer industry to expand the transmission grid to the Northern Cape, which we will still do.
"However, given the time pressure to accelerate the introduction of grid access, Mpumalanga is a natural candidate to do exactly that," he said.
De Ruyter explained that recent studies have indicated that Mpumalanga has significant wind resources, with new data confirming this.
As a result, Eskom was looking into the possibility of building a 70 MW wind farm near the Komati power station, which will be the first of Eskom's coal-fired power stations to shut down permanently in September.
Moreover, De Ruyter said the solar resources in Mpumalanga were some of the best globally. While the solar resources in Mpumalanga were not as abundant as those in the Northern Cape, he said they were certainly far better than what was available in Europe.
He noted that Eskom wanted to attract and drive investment into new renewable generation capacity towards Mpumalanga because it is where the biggest negative impact will occur as a consequence of the energy transition.
The province had an abundance of skilled people that could be redeployed into renewable energy jobs, thereby ensuring a more just transition.
"They typically have experience of working in industry – either in mining or manufacturing – and there is a significant human capital base that is accessible and available to be employed," De Ruyter said.
He referred to recent studies done by the World Bank that indicated that between 160 000 and 300 000 net new jobs – after compensating for losses in the coal sector – would be created by the just energy transition.
"This is certainly a very necessary and a very positive finding, given that Mpumalanga is the province with the highest youth unemployment rate," he noted.
De Ruyter said that while Eskom was committed to driving the just energy transition through a process of empowering and repurposing its existing infrastructure, it was also enabling the private sector to step up its investment into Mpumalanga by making Eskom-owned land available on a rental basis.
This would make it possible for private investors to access the grid using Eskom land over a 20- or 30-year lease period.
De Ruyter's comments complement the new documentary, which was commissioned by a consortium comprising research organisation Trade & Industrial Policy Strategies, the National Labour and Economic Development Institute, environmental organisation groundWork and independent urban energy and climate change practioner Peta Wolpe.
The documentary was directed by documentary film maker Joelle Chesselet and is available to view on YouTube at: https://www.youtube.com/watch?v=rRQkI-SEVho.