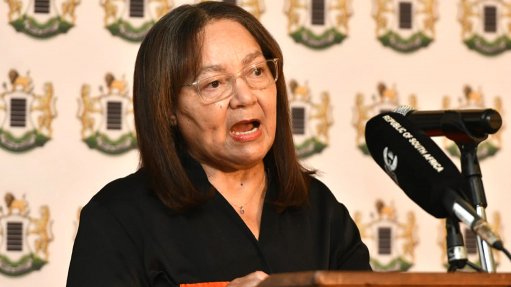 Public Works and Infrastructure Minister Patricia de Lille
Public Works and Infrastructure Minister Patricia de Lille, during her budget vote speech to Parliament on May 24, emphasised the importance of building and maintaining infrastructure to support national economic development objectives.
"Infrastructure is vital for the wellbeing of our communities and to help grow our economy," she said.
The National Infrastructure Plan 2050 (NIP 2050), gazetted in March, is the long-term plan for infrastructure development across the country. It aims to ensure there is a long-term plan for infrastructure to drive economic and social transformation to achieve National Development Plan (NDP) goals and beyond, De Lille said.
South Africa's NDP sets out clear economic development targets, which is further supported by the Infrastructure Investment Plan and the NIP 2050. The Infrastructure Investment Plan is central to the Economic Reconstruction and Recovery Plan (ERRP), which is aimed at creating jobs, and has started bringing the construction industry back to life, she noted.
"Recent events have again laid bare the importance of infrastructure and ensuring that we not only build new infrastructure but maintain existing infrastructure. We must build and maintain infrastructure taking the severe impacts of climate change into consideration," she added.
"An additional R1.6-trillion in public sector infrastructure investment is required by 2030, over and above what is forecasted for current public sector entities. This will be achieved by, among other efforts, building private sector confidence in the capacity and capability of the State to deliver bankable public infrastructure projects," she said.
The Department of Public Works and Infrastructure (DPWI) has started the implementation of the first three years of the NIP 2050.
It has also started with the drafting of the second phase of the NIP, which will focus on social infrastructure and related municipal services, as well as approaches to strengthening coordination through the District Development Model approach. This will be finalised in the 2022/23 financial year.
Further, Infrastructure South Africa (ISA) was established following approval by Cabinet in 2020 and is working to drive the Infrastructure Investment Plan through project unblocking, unlocking funding, and monitoring and reporting on the implementation of priority projects.
Meanwhile, the DPWI has been involved in five work streams and interventions to assist in the reconstruction efforts in KwaZulu-Natal and the Eastern Cape to mitigate the effects of the recent flood disaster.
"A database of more than 300 built environment professionals has been made available to the Department of Cooperative Governance and Traditional Affairs (Cogta) to help assess, scope, cost, design and implement critical reconstruction and building of damaged infrastructure," De Lille said.
Departmental resources will focus on the current 53 government-owned buildings in KwaZulu-Natal and the 12 government-owned buildings in Eastern Cape which have been damaged by the floods to make them usable, she added.
"The department has also identified 258 land parcels, while the KwaZulu-Natal Department of Public Works and Human Settlements has identified a further 25 land parcels. These land parcels are being assessed for suitability for the resettlement of displaced communities by the Housing Development Agency.
Meanwhile, to date, 52 sites in KwaZulu-Natal in need of bridges have been identified. The construction of the first 18 bridges in KwaZulu-Natal is to commence from June 1.
In the Eastern Cape, technical assessments have been done at 20 bridge sites. DPWI has reassigned more capacity to assist the KwaZulu-Natal and Eastern Cape Departments of Transport and affected municipalities.
Further, in terms of the State of the Nation commitments on the Welisizwe Rural Bridges programme, 96 bridges are planned for the 2022/23 financial year, De Lille said.
These will be built in the Eastern Cape, Mpumalanga, Limpopo, North West, Free State and KwaZulu-Natal. The latest three completed bridges in KwaZulu-Natal were handed over in early May, she reported to Parliament.
Meanwhile, the photovoltaic (PV) and water savings on government building programme (Strategic Infrastructure Project 28) launched a request for information (RFI) process for the Integrated Renewable Energy and Resource Efficiency Programme in September 2021.
"We received 58 submissions from the RFI process and we are set to take the request for proposals to the market by the end of June," she said.
Additionally, during the previous year's budget speech, De Lille announced the establishment of the Infrastructure Built Anti-Corruption Forum, a multi-sectoral body led by the DPWI and the Special Investigating Unit.
"The forum's operational structures have been set up. This year will see the forum place greater emphasis on awareness and prevention activities to encourage people to come forward with information on corruption so that we can put perpetrators behind bars.
"I would like to reiterate my commitment to cleaning up this department and getting it on track to work for government and all South Africans.
"We have made great inroads over the past three years, but a lot more still needs to be done to work on the level of urgency we need to deliver to our citizens," De Lille said.