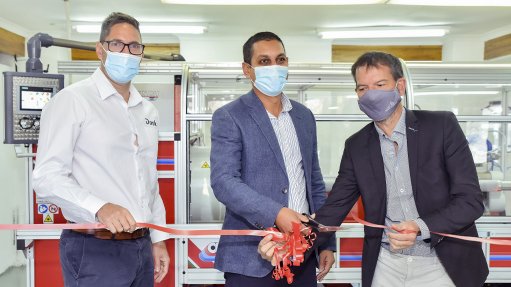 From left to right: Trent Bomberg, MD at Dask; Renai Moothilal, Executive Director of the National Association of Automotive Component and Allied Manufacturers (NAACAM); and Jean-Claude Lasserre, CEO of Saint-Gobain South Africa & Sub Saharan Africa.
SEPTEMBER 2021, JOHANNESBURG — Dask Distributors is proud to announce that it has partnered exclusively with Saint-Gobain Tapes Solutions to locally manufacture automotive bonding tapes for top OEM assembly plants in South Africa.
Dask Distributors is now able to manufacture and convert raw materials into bonding tapes thanks to it having imported new, state-of-the-art machinery from CMC in Italy. Dask Distributors will be a Tier 1 supplier of Saint-Gobain bonding tapes for the likes of Toyota, VW, Mercedes Benz, BMW, Nissan, Ford and Isuzu. Moreover, these locally manufactured tapes will have all the necessary global OEM approvals in place.
Bonding tapes are crucial components when it comes to assembling modern vehicles. These tapes are engineered to cater towards the high stresses and bonding requirements of major automotive vehicle assembly lines.
The tapes are further used to assemble interiors, battery packs for electric vehicles, body exteriors, electrical insulation, as well as braking and chassis systems.
Trent Bomberg, MD of Dask Distributors, says: "Historically, the likes of OEMs have purchased bonding tapes from overseas-based companies, thereby introducing a greater degree of cost and complexity to their operations."
"Manufacturing these tapes in SA will help OEMs boost their local procurement targets. It will further help them to achieve the goals set out in the SA Automotive Master Plan 2035 and earn greater incentives through the Automotive Production and Development Programme (APDP). Dask's in-house manufacturing capabilities, as well as its Level 4 B-BBEE compliance, make it a solid partner in this regard," adds Bomberg.
Renai Moothilal, Executive Director of the National Association of Automotive Component and Allied Manufacturers (NAACAM) congratulated its member company Dask Distributors.
"Growing this partnership with a major multinational like Saint-Gobain to drive new localisation in the SA automotive sector is exactly the kind of outcome we want to see and it is a model for other emerging South African component companies who want to enter the global market and become part of the automotive manufacturing value chain," says Moothilal.
A further important note regarding this development is that local OEMs will also be more shielded from the current challenges facing the global supply chain with the ongoing COVID-19 pandemic.
By manufacturing Saint-Gobain bonding tape components locally, Dask is set to help OEMs maintain efficient, continuous, and cost-effective production lines.
General Manager for Saint-Gobain Abrasives South Africa, Tommie Smit says: "We are very pleased with our growing partnership with Dask Distributors and we are fully in support of the SA Automotive Master Plan 2035. Saint-Gobain has also participated with other Government initiatives such as the Youth Employment Scheme (YES program) to support the youth in gaining valuable work experience to improve their chances of employment."
"Saint-Gobain is a solutions-based organisation. In addition, we also offer products to the Automotive sector globally such as Bonded Abrasives wheels for gear grinding, E Rotor grinding, products used in the manufacturing of Catalytic Convertors and Adhesives to name but a few," says Smit.
Growing partnership
This latest development from Dask Distributors comes after it struck a key partnership with Saint-Gobain in 2020, to manufacture and produce automotive abrasives locally.
Similar to the bonding tapes market, the vast majority of abrasives were previously manufactured offshore and imported as a completed product — resulting in higher costs.
Dask Distributors, however, invested in state-of-the-art machinery from Italian manufacturer Biko which has allowed it to produce abrasives with the highest level of accuracy.
By undertaking these endeavours, Dask Distributors has also created many new local jobs at a time when the South African economy needs it most.
Furthermore, the move to manufacture these products in South Africa comes as Dask Distributors continues to evolve from being a distributor to being a manufacturer as well.
About Dask Distributors
Dask Distributors has been operating for over 36 years and is a manufacturer and distributor of high-quality automotive and engineering consumables and products. Dask services the OEM, industrial and DIY sectors, and its mission is to be a world-class manufacturer and distributor through innovation and responsible business practices. Dask strongly believes in establishing strong partnerships with customers and suppliers, having a highly-skilled salesforce with specialised knowledge, using the latest technology and establishing a top manufacturing pillar. Dask Distributors operates out of Johannesburg, South Africa. Trusted brand partners for Dask Distributors include the likes of Horn and Bauer (German manufacturer of protective plastics), Mallcom (India's leading PPE Manufacturing Brand) and Saint-Gobain.
About Saint-Gobain
Saint-Gobain designs, manufactures and distributes materials and solutions for the construction, healthcare and other industrial application markets. Developed through a continuous innovation process, they can be found everywhere in our living places and daily life, providing wellbeing, performance and safety, while addressing the challenges of sustainable construction, resource efficiency and the fight against climate change. This strategy of responsible growth is guided by the Saint-Gobain purpose, "MAKING THE WORLD A BETTER HOME", which responds to the shared ambition of all the women and men in the Group to act every day to make the world a more beautiful and sustainable place to live in. Saint-Gobain has more than 170 000 employees located in 70 countries, and it is committed to achieving Carbon Neutrality by 2050.
For more details on Saint-Gobain, visit www.saint-gobain.com and www.saint-gobain-africa.com