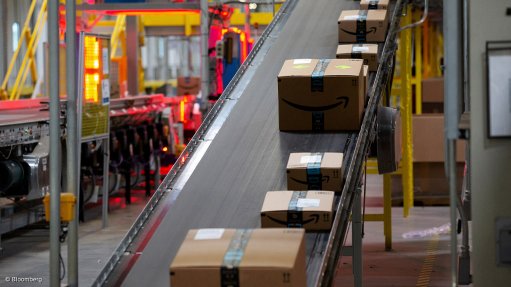 Photo by: Bloomberg
The Covid-19 pandemic has accelerated change and moved desired changes in the supply chain space forward by at least ten years, Australia-based supply chain advisory firm Gattorna Alignment executive chairperson Dr John Gattorna said on June 23.
"Changes we were grappling with before, but undecided about, are now mandatory as we design our enterprise supply chains for the post-Covid era. What we have also learned is that, if supply chains stop, our entire lifestyle is threatened. That is how pervasive they are.
"Now we must set out to embed resilience, or balance against risk, in our enterprise supply chains, sufficient to withstand business-as-usual type volatility, while being prepared for the large one-off unexpected disruption if or when it comes," Gattorna pointed out.
He added that the world would have to move into the next decade with a dual mindset, managing a parallel universe of supply chain configurations.
Gattorna discussed the supply chain world beyond Covid-19 during a webinar hosted by professional body for supply chain management Sapics, ahead of the yearly Sapics conference which would be held in Cape Town, in November.
Gattorna said supply chains had developed from door systems integration to early digitisation and linear networks, through to networks of networks, multiple supply chains that make use of digitisation, the Internet of Things (IoT) and blockchain.
"But, we can look at the Covid-19 crisis as a once-in-a-generation opportunity to reshape supply chains and change our thinking.
"The supply problem started in China, owing to a lot of procurement managers sourcing products at lowest price and quite good quality from China. But as Covid-19 developed in China, other countries started experiencing demand and supply problems."
Gattorna suggested that it was vital that companies diversify their supply bases and perhaps even their product lines, while improving visibility in the supply chain – both upstream towards suppliers and downstream towards customers.
Further, he highlighted the need to address resilience and prepare for it. "How do we build resilience into our systems? How much are we prepared to invest in mitigating risk that we know will come when we have extreme disruptions?
"We need to look at our alignment. If you have a business and you want to service your customers appropriately, you have to understand what is happening in the marketplace - what are your customers thinking, and then allow yourself to take your own organisation and align with those customers," he said.
This connection is called strategy – the bridge between business and customers.
Gattorna stressed the need for the supply chain industry to move away from one-size-fits-all thinking and assuming that customers all have the same expectations in how they want to be serviced and developing generic strategies.
"It might be good for efficiencies, but it leads to more misalignment with the outside world.
"Not all customers are the same and they do change between brands easily. We are dealing with a moving landscape and how do we supply our supply chains to connect with the marketplace to get a reasonable coverage of that moving customer, without being crippled with costs," he explained.
Instead of using products and services to try and influence customer behaviour and conformance, which Gattorna called an inside-out process of thinking, companies should rather understand the individual behaviour of customers or segments of customers.
He called this process "outsider thinking" and said it considers what customers want to buy and how they want to be serviced.
By looking at customer demand patterns, either through primary research or using analytics, companies can be more precise in designing their supply chains.
"In this, we will find a strategy of understanding customers and segment them in a way to service them more precisely, while getting reductions in cost by avoiding over-servicing. We reward collaborative customers and see their satisfaction and revenue going up.
"Managing supply chains is not just about being cost-effective, but enabling it to make a positive impact on revenue," Gattorna pointed out.
He stated that many companies were still being managed vertically, without differentiating the needs of their customers or their suppliers. He said this was a problem since supply chains were flowing horizontally.
"Going forward, by using this alignment thinking, what we are looking to try is to segment the marketplace and get a behavioural segmentation, based on their buying behaviour and what they are expecting from the business.
"The same thing applies with the supply base – looking at those who are collaborative, transactional or dynamic. Companies ought to set up multidisciplinary teams to manage the horizontal flow for each customer segment in the supply chain."
With behaviour segmentation, Gattorna said there were about five different segments - collaborative, transactional, project accumulation, dynamic and innovative solutions.
"The metaphor for supply chain alignment can be multiple conveyor belts running in parallel but at different speeds. The same product can be placed in any one of the conveyor belts. Because of their different operating characteristics, they can be delivering according to customers' needs," he stated.
It is about understanding the structure of one's market and using that as a frame of reference for supply chain management.
Gattorna said some customers were focused on the relationship, some on compliance, some on efficiency and stability and others on urgency, for example.
"To this end, we must speed up our organisational decision-making to reflect the speed of change in our operating environment.
Gattorna said central to this was making use of IoT and digitisation.
A company's IoT strategy must consider how it can add value to the company and customers, what information is needed, what type of analysis will be done, and determine data capturing points.
Different software companies are helping companies track assets and compile customer data, owing to the vast amounts of data that can be gathered.
"We have to think about data at the real-time level, collecting it at a monthly and daily level. It is no longer optional."