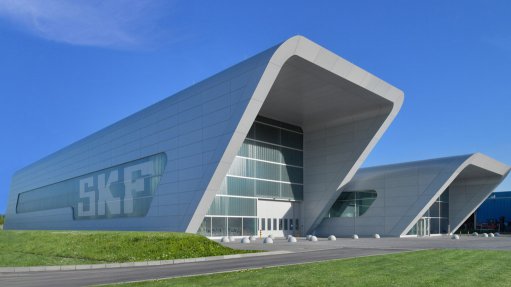 BEARINGS The company has over 17 000 distributors located across the world
Bearing parts supplier SKF South Africa (SKF) has supplied a custom-designed heavy-duty bearing housing assembly and two IMX-S conditioning monitoring systems for a 12 MW semi-autogenous grinding (SAG) mill currently operating on a gold mine in West Africa.

"This is the first combination online condition monitoring system and drive train solution for a SAG mill supplied by SKF," says SKF project manager John Storm.
He explains that the end-user purchased the complete new SAG mill for the gold mine from a South African engineering company. The application presented a number of challenges, which prompted the project house to approach SKF for assistance.
"We had to find a solution to address the significant loading that the dual drive mill places on the bearing housing caps. Further, as the entire plant is automated with instrumentation feedback to a control room, it was imperative that the mill complied with existing protocol," he explains.
SKF's turnkey solution included South Africa-designed bearings and sleeves complete with custom-designed heavy-duty pinion housings. He highlights that SKF customised the housing assemblies to include an uprated cap bolt and housing shell thickness to ensure that the housings are able to withstand severe cap loading on drive train A and B for increased life span and improved uptime for the end-user. The scope of work also called for the supply of a spare pinion.
"To provide additional protection to the bearings from contamination ingress, we incorporated special custom sealing arrangements to customer-specific requirements," adds Storm.
He explains that SKF's solution also extended to a customised IMX-S based solution for online condition monitoring and analysis. The multilog online system IMX-S was rebuilt into an international protection marking (IP) 66-rated panel complete with a dust canopy.
Two IMX-S units were supplied to monitor both drive train A and B of the 12 MW SAG mill. He explains that the system provides Modbus RTU to Modbus IP/TCP conversion for real-time integration and asset status feed to the end-user's control room.
SKF's customised turnkey bearing housings and online monitoring system designed in accordance with customer specifications fitted the end-user's existing infrastructure and met all the required safety factors on the mill's A and B mill drive trains.
"We supplied an easy-to-install solution that delivers increased productivity through higher machine efficiency and availability for the end-user," he adds.
Storm concludes that SKF is a global supplier of bearings, seals, mechatronics, lubrication systems, and services which include technical support, maintenance and reliability services, engineering consulting and training. The company is represented in more than 130 countries and has around 17 000 distributor locations globally.