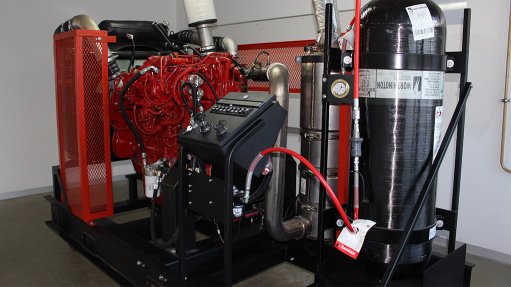 CNG ISL 9 ENGINE The demonstration 9 ℓ CNG Cummins ISL 9 engine is used for technician testing, and such engines will typically be used in automotive applications
Power and engine multinational Cummins Africa has added a compressed natural gas (CNG) engine training programme to the courses available at its Kelvin View training facility, in Gauteng, to support the growing use of CNG engines in public transport and power generation, says Cummins Africa service operation director John Shuttleworth.
CNG powered buses are already in operation in the major metros, and this type of engine has low greenhouse-gas emissions. Natural gas resources are increasing, owing to large regional gas discoveries, and the potential use of biogases generated from organic waste. CNG is an efficient way of using natural gas resources for power and transport, particularly in urban areas.
The facility can accommodate 550 technicians a year and aims to provide the necessary customer support for Cummins' clients in Southern Africa. The firm invested R1.5-million to upgrade the training facility and develop the new course. The company also has similar training facilities in Ghana, Nigeria, Kenya and Morocco, says Cummins Africa power generation director Alok Joshi.
CNG storage tanks are generally smaller than a typical diesel tank. A number of these smaller tanks are used on buses to achieve the diesel litre equivalent of gas required. Because this limits storage space, CNG is the preferred choice for shorter distances such as urban transport, says certified CNG trainer and Cummins Africa senior trainer Dewald Lombaard.
"Cummins Africa provides each client with a detailed design to provide the torque and power formats required for an engine's specific applications," he explains.
There are two 9 ℓ Cummins ISL9 CNG engines at the training facility: one for dismantling and training, the other for demonstration and technician testing. Faults are simulated on the operational demonstration engine that technicians must find and solve to receive their certification, details Lombaard.
The automotive CNG engines are available in 5.9 ℓ, 9 ℓ, 12 ℓ and 15 ℓ sizes, while 1 MW 60 ℓ and 2 MW 91 ℓ engines are available for power generation applications in other gas formats, says Joshi.
Cummins Africa technical training and workforce development GM Kevin Padayachee states that the CNG learning programme aligns with the unit standards accredited by the Manufacturing, Engineering and Related Services Sector Education and Training Authority for the training centre's quality assurance, which will enable clients to achieve productivity improvements rapidly, owing to the availability of qualified and certified technicians.
While Cummins CNG automotive products are available and being used in South Africa, the firm expects CNG products to flow into regional markets through original-equipment manufacturers.