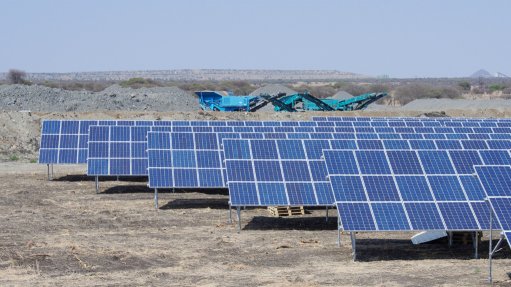 Photo by: Cronimet Power Solutions
TORONTO (miningweekly.com) – Mining and energy solutions firm Cronimet Mining Power Solutions officially broke ground and began its engineering, procurement and construction (EPC) contracting activities for a large Namibian photovoltaic (PV) power plant on August 18.

The PV project is located in Omburu, north-west of Windhoek. When completed, the 4.5 MW grid-connected renewable-energy power plant, installed on 16 ha of arid land, would be Namibia's first utility-scale ground-mounted PV system.
French wind technology developer InnoVent, operating in Namibia as InnoSun, selected Cronimet Mining Power Solutions to manage and execute EPC services and to provide the construction-risk wrap for the project.

To this end, Cronimet has established a Namibia-based EPC contracting and energy development services company, Cronimet Mining Power Solutions Namibia, to employ and transfer skills locally.
Cronimet would be responsible for engineering, technical planning, PV plant layout, electrical single-line diagrams, construction and PV-component-parts integration and would oversee connecting the power plant to NamPower's grid. The company would also employ local staff to operate and maintain the 4.5 MW plant for up to 20 years.
InnoSun chose CIGS (copper, indium, gallium, selenium) thin-film panels for the electricity generation, which would be mounted to a horizontal tracking system. Tracking the sun as it rises and sets optimises the angle of the panels in relation to the position of the sun at any given time during the day, allowing the PV panel to increase its energy output by as much as 25% when compared with fixed-tilt systems in Namibia.
The Omburu PV plant would generate a total of 11 025 MWh/y of clean and reliable electricity that would feed into NamPower's national grid system and replace more than 8 500 t/y of carbon dioxide.
"InnoSun really pushed the limit with their exciting demands to apply the most contemporary PV plant and equipment available on the market for this project. The project has allowed and challenged our engineers to optimise across some exciting new products," Cronimet Mining Power Solutions technical manager Daniel Ambros said.