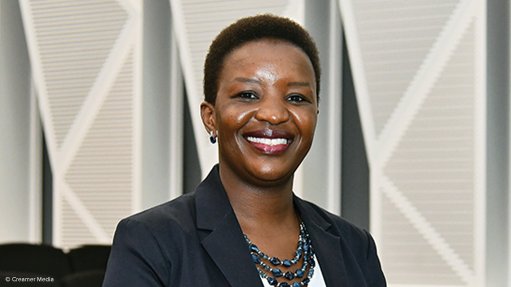 BLSA CEO Busi Mavuso
Photo by: Creamer Media's Donna Slater
The structural reform required to transform South Africa's economy has "frustratingly" progressed very little, notwithstanding the establishment of Operation Vulindlela, Business Leadership South Africa (BLSA) CEO Busi Mavuso asserts.
She says organised business has consistently argued that South Africa's economy needs structural reforms – changing the fundamental capacity of the economy through policy – if it is to grow.

Among the changes needed are spectrum migration to open up broadband; the restructuring of the energy supply industry to ensure reliable, low-cost power; investment in infrastructure to support the economy; and various policy changes to improve access to skills, including skills visas.

"I am often reassured that government recognises and supports these objectives. President Cyril Ramaphosa acknowledged in the State of the Nation Address this year that 'we will not achieve higher rates of growth and employment if we do not implement structural economic reforms'," she notes.
To address these issues, Ramaphosa set up Operation Vulindlela along with the National Treasury to drive the implementation of agreed reforms.

However, Mavuso says there has been little progress, evidenced by the much-needed spectrum auction, that was due to happen in March, currently being stuck in legal limbo with various parties turning to the courts, alleging that the process does not pass legal muster.
In addition, she highlights that the so-called "expedited round" of energy procurement is currently facing legal challenges over procedural issues; pointing out that this is the first time an independent power producer procurement process has faced substantial legal challenge.
Further, Mavuso also notes that South Africa's weak and worsening infrastructure investment rates have not "turned the corner".
INTERVENTION QUESTIONED
Although she says she appreciates Ramaphosa's efforts to run interventions from his office, assembling good and capable people to lead the effort, Mavuso, nonetheless, says interventions cannot be a substitute for improving the functioning of basic government structures.
"These should work well, without the need for intervention. Intervention can only be a temporary stopgap while you fix the underlying institutions so that they work properly," she states.

An area of specific frustration for BLSA is energy reform. The organisation argues that South Africa needs the licence-exemption threshold for embedded generation to be increased to 50 MW.
Raising the threshold will enable companies to build their own electricity generating facilities for their own use, and potentially supply excess power onto the grid.
"In making this call; we are in sync with Eskom, whose CEO has also called for the change, as well as [Ramaphosa] himself who called for changes to unlock 5 000 MW of additional capacity – a target that can only be achieved if the threshold is raised to 50 MW," suggests Mavuso.

However, in mid-May, Mineral Resources and Energy Minister Gwede Mantashe doubled down on his view that the threshold should be 10 MW as it currently is in draft amendments to the Electricity Regulation Act, she points out.
Mavuso highlights that the Department of Mineral Resources and Energy (DMRE) allegedly surveyed 10 000 people who supported the lower threshold, but she questions who these interviewees were and their qualifications to make such determinations.
She notes that the DMRE later stated it had not conducted a survey but had rather received public comments to this effect.
"I find this also to be surprising. I am not aware of anyone arguing for the lower threshold, at least [not] in the public domain," Mavuso says.
She notes, however, that there is a large vested interest that makes money out of the status quo – those involved in trucking coal to power stations, for instance, suggesting that such elements do not want anything to change, let alone establish a stable low-cost energy sector.
Nonetheless, Mavuso says the DMRE must act in the public interest and consider whether these vested interests really do serve it.
"You cannot do that by counting up submissions as if numbers alone make the argument for what is genuinely in the public interest," she says.

This example is just one where the private sector is closely aligned with the President, says Mavuso; however, pointing out that his own government appears to be taking a different stance.
UNCERTAINTY PREVAILING
Given South Africa's past experiences with the first and second waves of Covid-19 infections, she says there is a growing unease at what lies ahead as a third wave seems imminent.
"Uncertainty will linger about the impact of what measures are taken in an economy still recovering from the initial hard lockdown.
"We need a more transparent process in determining restrictions as we navigate through these difficult times," says Mavuso.