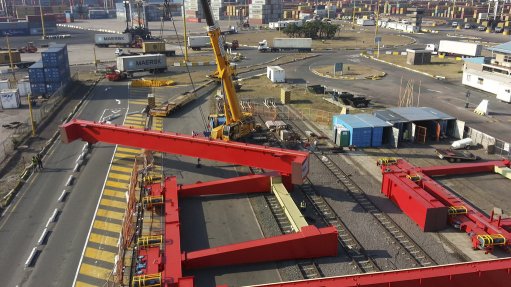 SMOOTH PORT OPERATION Abacus supplied the automation solution for two 40 t Terex rail mounted gantry cranes that were supplied to Pier 2 of the Durban port
Automation specialist Abacus Automation intends to further business relations with State-owned freight utility Transnet Port Terminals (TPT), and increase its market share in port and harbour services through the implementation and optimisation of its crane automation offering.
The company – which has been involved in crane-related projects for over ten years – can offer solutions for various crane types and applications, from factory overhead cranes right through to ship-to-shore cranes to control and manage material for various companies across industries.
Abacus technical director Warren Scott states that the company has already completed tenders for TPT this year, including tenders relating to a crane upgrade and four crane mechanical and electrical assessments.
This drive to increase services to the sea-freight market can be partially attributed to government's commitment to develop South Africa's ocean economy. Three of the five special economic zones are port locations, namely, Saldanha Bay, Richards Bay and East London. Additionally, Transnet's budget, released in March, allocated R7-billion to build new port facilities and grow the ocean economy. This allocation included R80-million for the 2016/17 rehabilitation and maintenance programme. All considered, this ensures that there are several business opportunities in the ports and harbours sector.
Moreover, South African ports handle about 200-million tons of cargo a year, about 80-million of which are handled by the Port of Durban – which is near Abacus's headquarters in Pinetown, KwaZulu-Natal. This ensures that the company is on hand to service the port's crane fleet, which requires recurrent work, in terms of maintenance, assessments and upgrades.
Scott notes that one of the biggest crane-related projects that Abacus has completed was for TPT. Abacus supplied the automation solution, including the variable speed drive (VSD) cabinets and crane management systems, on two 40 t Terex rail-mounted gantry cranes that were supplied to Pier 2 of TPT's Durban port in November 2014.
He notes that Abacus made use of electronic solutions giant Siemens' scalable technology modules for crane automation (or Simocrane), which is a software platform designed to increase productivity. The hardware for the solution included high-end programmable logic controllers (PLCs), a drive controller (called Simotion controller) and VSDs designed and optimised for crane use.
Scott explains that the crane management system resides on the computer in the crane's cabin and provides the driver with all the information pertaining to the crane's status and its fault diagnostic tools. The driver's control desk relays signals to the PLC which processes them and passes these signals to the Simotion controller. The Simocrane software is embedded into the Simotion controller and acts as the interface for the VSDs, which then moves the crane. The Simocrane software offers functionality options for all crane types, and needs only be parameterised and commissioned according to customer specifications.
He notes that the solution is derived from Siemens' collective knowledge from thousands of crane projects. "On a high-risk application like a crane, there is very little room for trial and error or experimentation. Safety is a high priority and the software uses multiple safety checks and precautions. The Simocrane software has been optimised for performance both in terms of production as well as power consumption," he affirms.
Scott also points out that, prior to the 2014 installation, the last time RMG cranes of that size were built in South Africa by Demag/Terex was about 25 years ago. This is significant because TPT, like all State-owned companies, requires that a majority of the products supplied are locally procured. Hence, both cranes were designed, manufactured, erected, electrified and automated locally with only a few selected parts purchased abroad.
"The production performance of the cranes has almost doubled the capability of the cranes they replaced," Scott enthuses, adding that, "the drivers have expressed their pleasure with the new cranes, especially the performance of the sway control."
Following the completion of this project, Abacus built a state-of-the-art crane development and training facility which boasts a fully functional Simocrane seven axis demo crane with a span of 4 m and a travel of 6 m. Scott emphasises that this facility is one of a few such facilities globally. It is located at the Abacus head office.
Siemens Approved
Abacus has been a Siemens system integrator since its establishment in 1995. It has been a Siemens-approved crane solution partner since 2013 – the only one in Africa. Abacus has been involved in many Siemens joint venture automation projects, while also assisting in the development of new products for Siemens AG.
The crane partner approval process required that engineers complete training at the Siemens training facilities in the Netherlands and Germany. "Abacus had done a few crane projects but saw this as an opportunity to formalise our credentials in what is one of the applications at the pinnacle of automation," Scott states. The training involved two months of courses and exams on safety, design and programming.
The company's status as crane solution partner and system integrator enables Siemens to refer clients and projects to Abacus, while ensuring that the company meets and maintains international quality and service standards.
Paint Project
One other high-profile project includes a plantwide supervisory control and data acquisition (Scada) upgrade at paint manufacturer Kansai Plascon's Durban branch. The project, which started in 2014, took about 18 months to complete. It comprised design, installation and commissioning of Scada systems in four plants across seven buildings. Abacus was one of three contracts and its portion of the work amounted to about R3-million.
Scott notes that the upgrade had to be performed on a running plant with minimal disruption to production. Abacus employed a staged approach and ran systems in parallel in order to limit disruption. Further, the team had to work with and in an explosive environment, which required careful planning and execution.