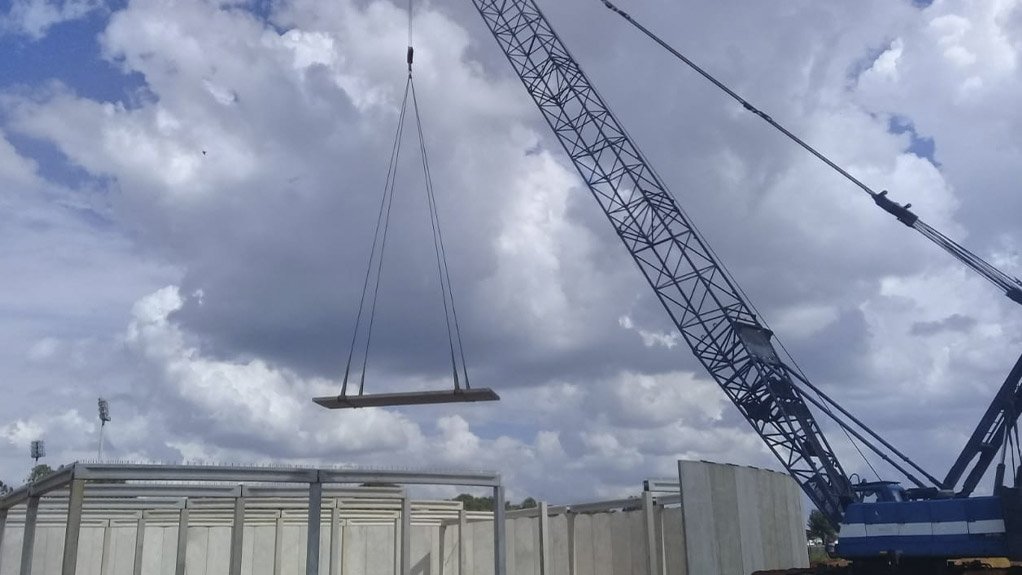 By mid-2021, the precast-concrete specialist will have assisted municipalities in the country to fast-track the delivery of more than 140ML of water-storage capacity.
The lack of a secure water supply in many areas of South Africa has exacerbated the COVID-19 crisis and again shed light on the worrying state of the country's water infrastructure, especially in outlying areas.
South Africa's water resource and supply, as well as sanitation infrastructure remain at risk. Bulk water resource infrastructure is struggling to cope with a rapid increase in demand in many areas of the country and the situation is being compounded by inadequate maintenance. Water supply in many urban areas is stable and will require investment in the medium and longer terms; however, it is severely compromised in less developed areas and, therefore, requires urgent intervention.
To provide clean water for washing hands and surfaces as part of the fight against the spread of the virus, thousands of tanks were delivered to many communities as South Africa went into a "hard" lockdown. While a commendable and effective short-term solution, these communities will require more reliable and sustainable water, sanitation and healthcare infrastructure well into the future.
Notably, the rollout of municipal water and sanitation infrastructure has been prioritised by government as part of a large public works programme that is also intended to stimulate economic recovery. This follows widespread job losses because of the shutdown and restrictions that have been implemented to contain the spread of the virus.
These projects are intended to create many jobs during the construction phases, in addition to the important role that they will play in ensuring water security well into the future.
However, investing in new water and sanitation infrastructure will result in further benefits, including helping to reduce multidimensional poverty and inequality. This is a challenge with which South Africa continues to grapple and the extent of the problem again highlighted during the crisis. Lack of essential service delivery infrastructure in many poor areas of the country has made it almost impossible for communities to adapt to the "new norm". For example, communities in highly densified informal settlements and low-cost housing developments are unable to practice social distancing. Meanwhile, limited or even non-existent water supply to many rural schools in extenuating circumstances, such as outlying areas of Limpopo, delayed their reopening last year.
Inadequate access to water and sanitation systems are among the lead contributors towards extreme poverty in many areas of the country. Amid other complexities, poor living conditions continue to place an immense strain on already-stretched government welfare
and healthcare systems. A sound investment made into bolstering water supply infrastructure in these areas will, therefore, relieve pressure on limited state resources.
Water and sanitation infrastructure also stimulate industrial development which, in turn, creates longer-term employment prospects after the construction phases.
President Cyril Ramaphosa recently noted that the rapid deterioration of municipal water infrastructure, such as wastewater treatment works and water treatment plants, in the country was undermining the economy.
Importantly, a focus on developing water and sanitation infrastructure is also a fundamental component of the South African government's transition into sustainable development. Access to water and sanitation is one of the United Nations' 17 Sustainable Development Goals and supports circular economy principles, which will also create jobs along the entire value chain.
Corestruc is proud to be playing its part in the rollout of water infrastructure in South Africa, with its strong order book for precast-concrete reservoirs reflecting government's commitment to bolstering bulk water supply in the country.
By mid-2021, the precast-concrete specialist will have assisted municipalities in the country to fast-track the delivery of more than 140ML of water-storage capacity, despite the impact of the COVID-19 lockdown period on most construction projects in the country.
Its projects include large reservoirs with storage capacities of up to 30ML that are being built on behalf of a leading metropolitan municipality. These will complement smaller structures that the company has already constructed in poor areas of the country that are grappling with severe water shortages.
Corestruc's unique precast-concrete technology enables professional teams to significantly accelerate the construction of this critical infrastructure. For example, the precast-concrete specialist was able to build the wall of a 25ML reservoir in less than two weeks. This excludes post-tensioning with work on the wall commencing on 3 December and successfully completed by the 17th of the month, despite delays to the construction programme due to heavy rain.
Work on finalising the installation of the roof of the structure commenced in the second week of January and will be followed by the post-tensioning of the structure before the reservoir is filled with water.
This project supports large developments that have been planned in this growing urban area of Gauteng.
"Corestruc continues to build strong working relationships with urban and rural municipalities, as well as their professional teams. Our unique precast-concrete solutions have revolutionised the way in which these technically complex structures are being built at a time when water infrastructure has been placed high on the agenda," Willie de Jager, Managing Director of Corestruc, concludes.