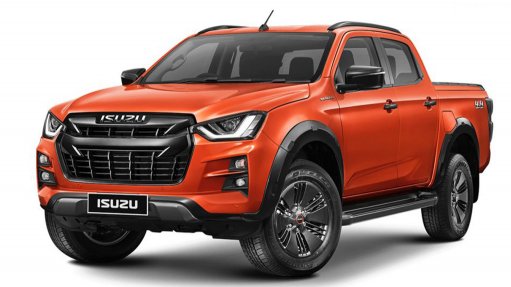 The new generation D-Max bakkie from Isuzu
Isuzu Motors South Africa (IMSA) has postponed the launch of its new generation D-Max bakkie from 2021, to the first half of 2022, says IMSA technical operations senior VP Dominic Rimmer.
"Our next generation bakkie programme remains a top priority for the South African market and has the ongoing support of project team members in Japan, Thailand and South Africa," he notes.
"Initial indications are that Covid-19 has impacted upon the global automotive value chain, and as such it is likely that this will result in a delay to the launch timing.
"But, we are progressing and making up some lost time."
Rimmer says the Isuzu team also has to deal with the impact of Covid-19 on its African export markets, as well changes within those markets.
"We have a critical market in Kenya and we have a project team working there. We've seen Kenya move to Euro 4 emission standards, and we have to adjust our product line-up to respond to those changes."
South Africa remains on the much less environmentally friendly Euro 2 standard.
IMSA was awarded the R1.2-billion contract to produce the new, seventh generation D-Max at its plant in Port Elizabeth in 2019.
It is expected that an additional R2.8-billion of local content will be generated through the lifecycle of the project.
Rimmer says local content on current D-Max production is around 27%.
"Our intention going in was to carry that over and be at the same level with the new model. As we move forward the intention is to deepen that."
Rimmer adds that the local version of the new D-Max will have some uniquely South African features and characteristics.
"As you know we have very high expectations for the D-Max here in South Africa, so a significant amount of work has to be done to ensure we deliver a vehicle which is capable of coping with our challenging environment and customer demands."
Some of the key local projects include testing the load box, which in the current bakkie has significantly thicker steel in strategic areas such as the loadbox inner panels, load-box front panel and tailgate.
Other areas receiving attention from local engineers include dust sealing, suspension tuning and the development of local dampers, as well as the development of all terrain tyres, rear differential lock and axles, wiring harnesses, and accessories such as canopies, roll bars and nudge bars.
IMSA CEO Billy Tom says current domestic D-Max sales have performed better than expected, with the bakkie capturing 17.3% market share year-to-date.
"We had the best August D-Max sales month in 14 years. Isuzu D-Max was the second-best selling bakkie in South Africa for May, June and August."
The Japanese manufacturer has 108 dealers in sub-Saharan Africa.
Tom says Isuzu has a manufacturing presence in Egypt, Kenya and South Africa, with West Africa the only open spot on the map.
"But, watch this space."
Tom notes that Isuzu sales outside South Africa dropped by 4.7% for the first eight months of the year versus the same period last year.
"When you think about this, given Covid-19 and the global downturn, this is quite remarkable."