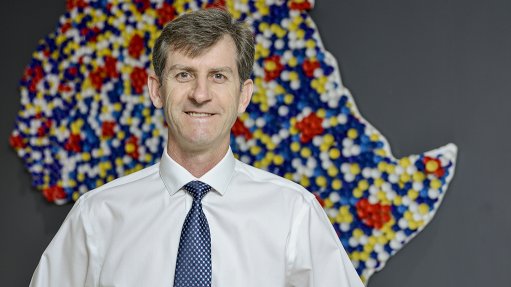 Nampak CEO Erik Smuts
Packaging group Nampak announced on Friday that impairments of R3-billion, which related to its Nigerian and Angolan operations, had contributed materially to a slump in its interim results for the period to March 31.
The outlook for the business was also uncertain, with the Covid-19 pandemic weighing down many of the consumer markets on which the JSE-listed group depended. In addition, its dollar denominated debt had emerged as a key risk factor, in light of a sharp weakening in the rand against the US dollar over the past six months.
Nampak's headline earnings a share for continuing and discontinued operations fell to 0.3c from 115.7c in the corresponding period last year and its trading profit declined by 39% to R633-million.
Group revenue dropped 17% to R6.5-billion owing to weaker economic conditions in South Africa, Angola and Zimbabwe, while operating profit collapsed by 68% to R287-million.
Nampak's continuing operations reported a loss of R2.9-billion, or a loss a share of 408.9c, which was attributed mainly to the impairments, as well as foreign exchange losses and hyperinflation in Zimbabwe.
The impairments followed a review of the value-in-use for the group's various cash generating units, which resulted in a R2.2-billion impairment to goodwill in Nigeria and an asset impairment of R800-billion in Angola.
CEO Erik Smuts told Engineering News that, while no impairments were indicated for either unit in September, a combination of factors, including oversupply, the oil price slump and a weakened demand and currency outlook in light of the pandemic had forced Nampak into making the impairments.
He described trading conditions for the first six months as challenging and indicated that the Covid-19 pandemic, which had resulted in severe disruptions globally, weighed on the outlook for the second half of the financial year.
"The heightened uncertainty as a result of Covid-19 and the impact of individual country's responses increases the difficulty in predicting the group's 2020 performance. Nampak has experienced significantly weaker overall demand in South Africa since the last week of March."
Smuts also highlighted changed consumption patterns during the South Africa lockdown, which had resulted in greater demand for food cans, but reduced demand for beverage cans and cartons for alcoholic beverages.
However, the easing of restrictions on alcohol sales in South Africa from June 1 was expected to result in a rise in demand, while the limitation to home-based consumption could bolster demand for some product categories, such as beverage cans.
Trading conditions remained generally weak, though, and the slowdown in the Angolan economy was expected to negatively impact sales of beverage can ends to that country.
Smuts said the current focus was on limiting the added pressure posed by the Covid-19 pandemic on already burdened economies, by prioritising cost saving measures across the group, preserving cash, reducing capital expenditure and assessing alternatives to improve profitability, in order to competitively reposition the business after the pandemic.
"Our strategic objectives include a significant simplification of the business, thereby reducing our overall risk profile and aligning funding structures with the underlying value creation within each business unit. We aim to reduce overall earnings volatility through optimisation of our regional footprint, our business portfolio and also our capital structure."
Actions had already been taken to reduce its wage bill, with unions agreeing to a wage freeze and with executives having agreed to salary sacrifices of between 15% and 30%. Some staff had also taken annual leave, which, in some cases, was being extended to unpaid leave.
DOLLAR DEBT A KEY RISK
Another key priority was to reduce dollar-denominated debt, which had emerged as a key risk factor.
The group's gearing stood at 82% at the end of the period, up from 68% in September 2019, owing to the 17% weakening of the rand:dollar exchange rate since September and the impairments in Nigeria and Angola.
The board had decided not to resume dividends payments until debt levels were significantly reduced.
Nampak had already embarked on a noncore asset disposal programme and reported sale proceeds of R2-billion for the interim period, with R1.6-billion of that arising from the sale of its glass unit and R400-million from its cartons business in Nigeria. Nampak Plastics Europe was sold for a nominal value.
"The R1.6-billion net proceeds from the disposal of noncore assets, and healthy cash transfers from Angola and Nigeria will be used to reduce our debt," Smuts reported.
He told Engineering News that further disinvestments were likely, but stressed that Nampak was not a desperate seller and would first seek to optimise the units before considering further disposals.