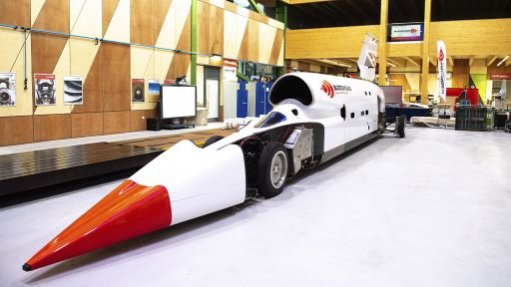 The Bloodhound land-speed record (Bloodhound LSR) attempt has gone into hibernation.

Following successful high-speed testing in South Africa in October and November, Bloodhound LSR has been focussed on securing sponsorship to further fund its world land-speed record campaign, says CEO Ian Warhurst.
"We had a finite timeline in which we had to secure investment in order to return to South Africa during the cool weather in the third quarter of 2021 to challenge for the land-speed record.
"Discussions with a number of global brands were looking promising when Covid-19 struck and the sponsorship industry literally shut down.
"This means our ability to raise the necessary funds in time and, consequently, the window to conduct the land-speed record campaign safely in 2021 is now very likely to be missed."
The current record is 1 227.9 km/h, notched up in 1997 by another UK team, led by Richard Noble, in a car driven by Andy Green.
The Bloodhound LSR team's aim is 1 600 km/h – fast enough to outsprint a bullet.

Last year's activities at the 16-km-long track in Hakskeenpan, in the Northern Cape, were about gathering information, testing equipment and getting a feel for how the Bloodhound car interacted with the desert surface and the climate. The Bloodhound team still managed a very respectable maximum speed of 1 010 km/h while doing all of this.

"There is still some work to do to enable the car to reach speeds over 800 mph [1 287 km/h] safely," says Warhurst.
This includes the development of a new zero-carbon-emission rocket, a revised jet fuel system, fitting winglets to the tail fin and building all the supporting ancillary equipment needed for fuelling the rocket and making two runs down the desert within an hour, as required by the record books.

"As a result, we are planning to go into hibernation to reduce the monthly overheads to an absolute minimum, and we'll reboot conversations with potential sponsors later in the year," notes Warhurst.
He says many people have suggested crowdfunding as an option.
"While it won't raise the £8-million needed to complete the project, we will be launching a campaign later in the year to give us the vital funding to allow this final push for sponsorship and to cover the costs of the unplanned hibernation period."