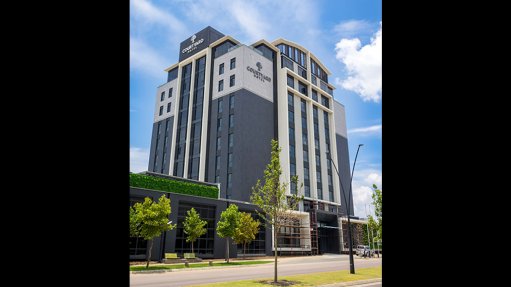 Situated close to the iconic Mall of Africa, as well as the Sandton and Midrand central business districts (CBDs), the new Courtyard Hotel at Waterfall City, in Midrand, is officially welcoming guests.
The hotel is within walking distance of the Mall of Africa's various amenities and is close to the Gautrain bus service and a secure bicycle parking facility, which means the hotel takes advantage of its location within the Waterfall City development to promote the use of sustainable public transport.
In Phase 1, the hotel will open its commercial areas (including the basement, ground floor and ninth floor) plus 84 bedrooms and four suites. The remaining floors and 80 rooms will open in phases, dependent on demand once the hotel is trading and the effect of Covid-19-related restrictions in the next few months.
The property has environment-friendly principles built into it, and the hotel is in the process of receiving its four-star Green Building Council South Africa certification that will validate the environmental initiatives implemented during the design, construction and procurement phase of this newly built hotel.
To achieve four stars, a facility has to demonstrate that best practices were followed to reduce the environmental impact of development through direct and indirect initiatives.
Efficient water and electrical designs were implemented throughout to minimise demand on resources. These include energy efficient lights and appliances, as well as intelligent lighting management systems and building monitoring systems. There is an effective automated mechanism for monitoring water consumption data, which is able to perform as a leak detection system.
Courtyard Hotel Waterfall City has also implemented intelligent metering systems and software to consolidate data that is displayed on permanent screens strategically placed within the foyer to ensure ongoing education and awareness of guests and staff.
Data will be available in real-time and will display daily, weekly, monthly and yearly energy and water consumption of the building.
Despite the devastating impact of Covid-19 on the tourism and hospitality industry, construction of the new hotel has only been set back four months. In building the new property, some 4 095 m³ of concrete was used, 141 t of reinforcement, 9 865 m² of post tensioning reinforcement of slabs, 15 919 m² of brickwork, 2 400 m² of glazing and 1 558 m² of ventilated façade.
The imminent launch of this new hotel heralds a new era in the Courtyard Hotel brand, says COO Lindiwe Sangweni-Siddo, who adds that there is much that is new with regard to guest experience.
"As we position the brand to appeal to the more discerning traveler of all ages, the fixtures and finishings are designed to wow guests as they walk through the space, bringing the fresh green outdoors inside and making the most of the light and views."