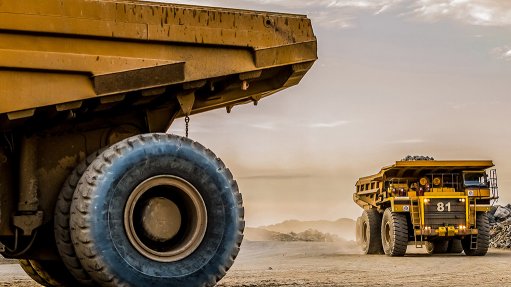 EMPOWERED DEVELOPMENT Minerals mined from West Africa, aside from the fiscal revenue they bring in, should be used to develop the country in which they were extracted
Amid opportunities for mining and the availability of substantial human resources in West Africa, cooperation between the public and private sectors can help grow mining in the region.
This cooperation can contribute to the development of industries, such as the energy sector, as well as the general economic development of West African countries, states pan-African law conglomerate Centurion Law MD Zion Adeoye.
He states that there must be cooperation in terms of not only financing but also on other issues such as sustainability, which should be dealt with at a policy level and at a regional level.
"Mining sectors of mature mining countries should be able to share what they've implemented so that less mature countries can take advantage of that. "Implementing and using these policies to deal with these challenges from the ground up would enable the West African mining industry to position itself as a serious industry that can play in the global market."
He says that, while countries and companies still want to maintain competitive environments to grow economies, stakeholders need to know how to cooperate in order to bring maximum value for all stakeholders.
Cooperation that uses available or existing infrastructure can reduce the capital outlay for mining projects; this can help multiple stakeholders "leverage synergies to create economies of scale", states Adeoye.
For example, some West African countries are arid and landlocked, while others have significant water resources, which is important for minerals processing and minerals exports. This can provide opportunities for landlocked countries to collaborate with countries that have access to water and ports.
Such cooperation can help to improve a country's economic stability, which, in turn, can help to improve foreign direct investment in mining and mines to maintain consistent production.
Adeoye adds that lessons can be learned from countries such as Ghana, which has, for example, created a pool of skilled workers and enhanced local content in manufacturing, having leveraged its strong gold mining industry to drive localisation.
Ghana's knowledge can provide opportunities for other West African countries to create a means of retaining the value from extracted minerals.
He adds that addressing mining challenges with proven policies can also have positive cost implications for a country's mining industry.
These policies should link mining industries with other industries and can, for example, involve the mining and energy sectors collaborating on introducing fiscal incentives for mining resources to the energy industry, Adeoye notes.
Retaining Value
"There should be a West African strategy that seeks financing into an aggregated point whereby it then flows into other industries. This can help to centralise infrastructure in a way that benefits more than one country and works for West Africa.
"It would be ideal to conduct a study to understand what the needs are in a region to find synergies and areas of cooperation."
He contends that investors rarely want to invest in one sector, as they want to eliminate risk through diversification.
This appetite for a diverse portfolio, with many minerals being used in energy generation and many industries being energy intensive, makes cooperation between mining and other industries crucial because the growth and success of West African economies are linked, declares Adeoye.
Moreover, collaboration could further incentivise investors, who could then, in turn, use this infrastructure and these synergies as the basis for prospecting and exploring on a regional scale.
However, Adeoye highlights the importance of creating an enabling environment for investors to encourage such activities.
"It's vital to recognise that minerals mined from West Africa, aside from a fiscal revenue perspective, should be used in the development of the country in which they were extracted.
"This development should also focus on empowering the private sector of a country and its local communities, as not doing so has resulted in much of the instability that has affected Africa. It's important to ensure that all stakeholders are considered before proceeding."
Adeoye argues that, to develop a country's economy, the State needs to play a significant role in managing and facilitating industries' value chains to develop local content and not only low-skilled jobs.
This will bolster industries, such as mining, by reducing the need for imports, consequently improving profitability, enabling companies to develop and pursue more projects, and enhancing the mining industry's contribution to the economy.
Ghana has benefited from this approach, which has contributed to making the country one of the most stable countries in West Africa, economically and politically.
Stakeholders should not allow perceptions to obscure potential opportunities: "It's important to consider foreign investment as not only coming from developed countries. Investment from Ghana to Mali, for example, is still foreign investment," he adds.
Adeoye concludes that, whenever additional resources are needed for the value chain, governments should not shy away from their responsibility of establishing basic infrastructure to benefit several industries, and that investments from countries should encompass the entire value chain.