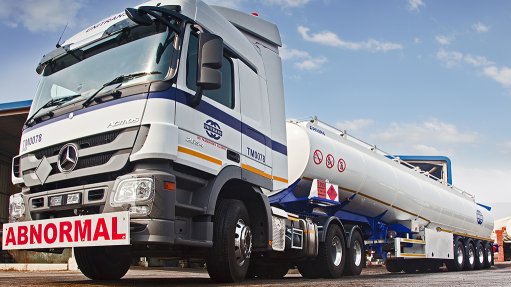 VANTAGE POINT Unitrans' new control tower uses new tech, trained staff and an aerial view of its yard to successfully dispatch its trucks throughout S. Africa
Specialist transport company Unitrans Supply Chain Solutions has noted a 42% improvement in driver awareness, while distracted driving incidents have decreased by 45%, since the launch of its centralised control tower in January 2017.
The control tower enables Unitrans' operational team to effectively manage the chemicals, petrochemicals, general freight, consumer, foods and mining divisions.
The control tower is a fully integrated information hub that provides a single source of data and information to facilitate fleet and driver safety and efficiency.
"Our big, bold goal has manifested into a centralised operational control tower that manages about 2 000 vehicles across our business units, and close to 30 000 events a week," says Unitrans operational excellence executive Jacques Greeff.
He tells Engineering News that Unitrans has, over the past four years, invested significantly in the technology and skills required to operate the control tower, which offers innovative approaches to customer challenges.
The control tower is integrated with a range of systems and technologies, including those of technology suppliers such as Mix Telematics, DriveRisk, Vantage, ERS, Micro Alert, Datatim and Uniplan.
"The control tower helps mitigate the risks of theft and hijacking, and increases the efficient monitoring and movement of vehicles. It also ensures load integrity and continuously builds driver operational efficiencies," says Unitrans strategic marketplace executive Carli Venter.
"All staff are required to be expertly proficient and trained in all systems being used in the tower," adds Venter.
"As the control tower continues to expand its service offering to an existing and new customer base, we are investing more and more in skills development as well as the building of a change mindset throughout our business," she says.
The company has increased the staff complement in the control tower in order to maintain service levels for a growing client base on the existing and new integrated systems.
Venter adds that the control tower has positioned itself as a centralised source of business intelligence that integrates with various ancillary technologies throughout the company's network.
The technology in the control tower also allows for supply chain solutions to empower customers, consequently enabling them to make informed decisions using accurate and intelligent information.
Handle with Care
The transportation of chemicals and petrochemicals involves significant safety risks.
Venter stresses that Unitrans drivers receive comprehensive training in hazardous goods transportation, defensive driving, vehicle specifications and the use of safety interventions and their limitations.
Further, every vehicle is equipped with a panic button that alerts the control tower to assist.
This assistance activates an in-vehicle communication procedure that includes the dispatch of emergency services such as the South African Police Service, the fire department and emergency medical assistance if necessary.
To mitigate the effects of unrest, crime hot spots, strike action and other safety risks, Unitrans has implemented the in-vehicle communication process to ensure drivers are able to receive warnings while en route.
"We do not dispatch any vehicle when the route is considered hazardous and will only do so once we have verified the route to be clear and safe," Venter points out.
"We have a responsibility to our drivers, our customers, the communities we operate in as well as other road users to ensure that safety is always our top priority."
Greeff concludes by noting that Unitrans's role as a logistics and transport provider is evolving, as "…it is not only about managing assets but also managing information, providing visibility to our customers and delivering value".