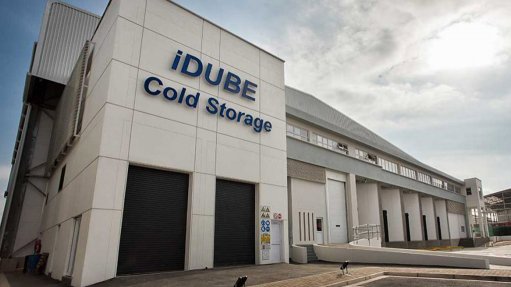 KEEP IT COOL The iDube Cold Storage facility caters for meat importers servicing local retailers and for exports of dairy, concentrate and citrus to international markets
To date, the Dube TradePort has attracted R1.5-billion in private sector investment through various developments within the special economic zone (SEZ), with a further R4.2-billion investment in the pipeline for developments within the second phase of the Dube TradeZone, within the Dube TradePort, in KwaZulu- Natal.
A recent development for the TradePort was the opening last month of the multipurpose iDube Cold Storage facility, within the Dube TradePort, valued at R99.2-million. KwaZulu-Natal Department of Economic Development, Tourism and Environmental Affairs MEC Sihle Zikalala describes the cold storage facility as a great example of government's continued effort to support the development of industries that enhance the effectiveness of value chains throughout the economy.
"From production to processing, it is essential that we provide healthy and highly competitive business operating environments, which will present new opportunities for both established and emerging enterprises."
The cold storage facility is being funded by public entity KwaZulu-Natal Growth Fund, a division of KwaZulu-Natal Department of Economic Development, Tourism and Environmental Affairs.
"The Growth Fund provided R63.4-million towards iDube Cold Storage to help establish one of the largest multitemperature cold storage facilities in KwaZulu-Natal. The facility is designed to handle both chilled and frozen perishable products," notes Zikalala.
KwaZulu-Natal Growth Fund acting CEO Aubrey Shabane says the funding of this project was motivated, in part, by its support of the Department of Trade and Industry's Black Industrialist Programme (BIP), as 50% of iDube Cold Storage's shareholding is black-owned.
"Further, one of the medium- term targets of the company will be to allocate 10% of the shares to employees who will be drawn from black economic-empowerment groups."
iDube Cold Storage falls under the umbrella of the BIP, which is among the initiatives aimed at delivering on South Africa's transformational goals and which is being supported by the Dube TradePort as well as other locations that are supported by KwaZulu-Natal's provincial government.
The facility will employ around 80 staff when operating at full capacity, drawing its labour from a pool of experienced professionals, in addition to creating new job opportunities for local community members, which will add to the 5 500 jobs already created throughout the Dube TradePort precinct.
iDube Cold Storage CEO Tebogo Mogapi commends both national and provincial bodies for their assistance in realising the vision of a multitemperature cold storage facility, adding that he is grateful for the opportunity.
The 4 500 m2 facility has the capacity to handle 8 600 mobile pallet positions, which can store up to 12 000 t of perishable products.