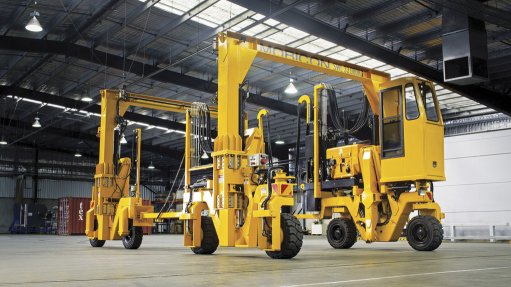 COMPACT CONTAINER CARRIER The Mobicon 2T can carry containers safely inside a building, and under awnings to save operation time
Container handling equipment solutions provider Mobicon Systems' mini straddle carriers have achieved significant success in African markets, specifically because of their low maintenance requirements, which ensure consistent functionality with minimal technical support, says materials handling company BLT South Africa (SA).
This equipment is designed and manufactured by container handling company Mobicon Australia. BLT SA has sole distribution rights for the mini straddle carriers in Africa.
BLT SA marketing director Charity Gumede says the carriers, which were first introduced to South Africa in 2004, are designed for lifting containers onto and off trucks, as well as for moving loads around sites. She notes that their compact design significantly reduces on-site congestion, thereby increasing yard and workplace safety.
She notes that they are ideal for use in warehouses, distribution centres, transport yards and container freight stations with limited space that handle about 350 containers each month.
"The Mobicon TF2 and 2T series increase operational efficiency and reduce demurrage costs for trucks waiting to be loaded and unloaded. These mobile container handlers efficiently move loads around sites and through warehouse doors, taking the container to the stack or the receiving point," comments Gumede.
She adds that one of the biggest problems associated with using conventional equipment to load and unload containers is the damage caused to yards and pavements that are not suitable for exposure to heavy weights. However, the lightweight design of the Mobicon system does not damage yards, thereby reducing yard maintenance costs, Gumede adds.
Further, the Mobicon container carriers have a four-axle, single-tyre design, with eight separate load centres, which allows for use throughout the yard. The carriers can be operated on pavements and in restrictive areas where a forklift or heavy equipment cannot go, she states.
Gumede says the mobile container carriers have "exceptional" manoeuvrability and can turn in tight spaces while travelling inside warehouses, under awnings and up to docks.
Cost-Effective and Unconventional Container Equipment
Gumede notes that, compared with conventional container equipment, the carrier units have lower capital, operating and maintenance costs, and lower tyre wear and fuel consumption. Additionally, the units' low ground pressure further reduces tyre wear and the units do not require specialised paving or flooring.
"Other advantages . . . include easy handling of ramps and speed bumps, faster container handling times – in all weather conditions – and minimal damage to content normally caused by long-lift truck runs."
The carriers incorporate two independent towers and use the container as the structural component linking the towers. Gumede notes that this two-tower design provides the flexibility required to operate on sloping or uneven surfaces. Further, the container is lifted from the bottom, which enables the operator to easily handle flat beds, tank containers, half heights, over-heights and curtain-sided containers.
The Mobicon system has a 33 t lift capacity and can carry any type or size of International Organisation for Standardisation-specified container, without the need for modifications or additional lifting equipment. Gumede says the system's low centre of gravity enhances stability, preventing it from rolling over, as conventional forklifts tend to do.
She stresses that safety was a critical factor in designing these machines. "We increased operator safety by giving the operator a clear view of the working area."
Moreover, the container carriers do not need to travel with a container 3 m in the air, as is the case with conventional systems. "Instead of staff having to work at a trailer height of 1.5 m, they are able to work safely at ground level," Gumede notes.
The cabins are also fitted with closed- circuit television cameras for improved operator visibility. Other safety features include front and rear strobe lights, audible movement alarms and fail-safe switches.
Mobicon 2T Series
The Mobicon 2T series, which can only stack containers one high, can operate in an area as small as 5 m wide. This machine can carry containers safely inside a building and under awnings to save operation time. It can also load road vehicles. The lift height is 1.75 m, the lift speed 2 m/min, and the cycle time about 3.5 minutes. It has four-wheel drive and hydraulic steering. Its 55 kW diesel engine consumes less than 5 ℓ/h.
Mobicon TF2 Series
The Mobicon TF2, which stacks containers two-high and has a drive speed of 9 km/h, is perfect for operations where space is at a premium and where speed is a priority. These machines have a lift height of 3.4 m, a lift speed of 4 m/min and a cycle time of about 2 minutes. Fitted with a four-wheel-drive system, with hydraulic steering and a 75 kW diesel engine, the TF2's fuel consumption is less than 8 ℓ/h. It is 8.2 m high, 4.7 m wide and 7.7 m long.
Both carriers are available from BLT SA as rental machines or for purchase. The company's other container handling equipment includes the Taylor empty and loaded container handler and reach stackers, as well as Meclift variable-reach trucks for swift and safe container stuffing and handling. Capacity terminal tractors can be customised for specific handling tasks.
BLT SA also offers a technical advisory, parts and support service throughout South Africa.