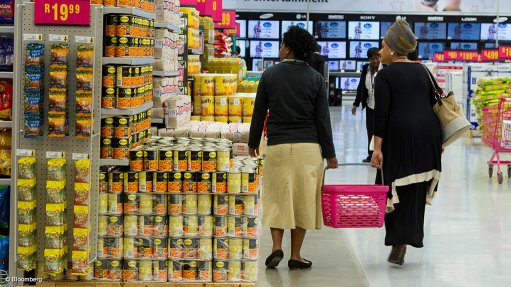 Photo by: Bloomberg
The global trend of economies shifting from being commodity driven to being consumer driven has started to find its footing in Africa.
"The one true driver of gross domestic product growth in any country is now consumer driven. Even in South Africa, the economy is only 19% hard commodity driven," Accenture Strategy MD Joost den Haas said on Wednesday.
Speaking at a Johannesburg Chamber of Commerce and Industry event, he cited Nigeria, Ghana, Mozambique and South Africa as some of the African countries that were actively shifting towards consumer-driven economic growth.
He pointed out that consumer goods, telecommunications, financial services and agriculture were the key enablers of economic growth on the continent.
From 2013 to 2020, private consumption in Africa would increase by 41% in real terms and consumer expenditure would rise to more than $1.1-trillion. Consumer goods companies were increasingly focusing on expanding into Africa, Den Haas noted.
Further, governments across the continent were focusing on improving food security and investing heavily in the agriculture sector, with assistance from the private sector.
Meanwhile, Den Haas noted that a significant shortage of local engineering capacity was a challenge, as many capital projects in Africa had already started showing signs of deterioration, owing to the lack of maintenance.
"Just contracting a number of skills is not enough. A growing reliance on expatriates raises intercultural communication challenges, while placing pressure on cost calculations and upsetting local hiring prerequisites," he added.
Further, when expatriates leave a country after having finished a project, they often take their skills with them, without local transfer. Den Haas cited recent rail developments on the continent as an example.