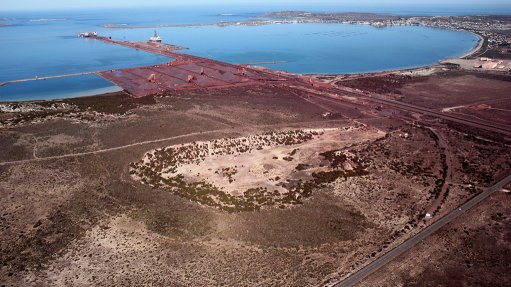 Construction has officially started on the R1.3-billion Saldanha liquefied petroleum gas (LPG) import and storage terminal, in Saldanha Bay – a project aimed at remedying rampant LPG shortages in the Western Cape, and dismantling what Sunrise Energy MD Barthlo Harmse describes as a monopolised LPG supply chain market.
"The Sunrise Energy terminal will be an open-access facility, meaning its infrastructure can be accessed by qualifying wholesale distributors, importers, traders or industrial LPG users, breaking the existing cartels and enabling new producers to enter the market," he said at the facility's launch on Thursday.
As a result of a shortfall in LPG production capacity in the Western Cape, Harmse said gas had to be transported to the province by road from Secunda and Richards Bay, which was becoming increasingly uneconomical and unsafe.
"LPG availability from inland refineries is not sustainable, owing to substantial market growth in the north of the country. The terminal will, thus, provide strategic buffer storage in the Western Cape, increasing the current storage capacity from 3 to 14 days," he commented.
According to Harmse, not only was the required capital spend on LPG infrastructure far less than that on coal-fired power stations, but 1.5-million tons a year of the gas could replace 2 500 MW of equivalent electricity.
"To give you an indication, this terminal was 3% of the total cost of the Medupi power station," he said, adding that LPG was a far cleaner source of power, generating only 20% of the emissions that coal-fired power stations generate.
30-YEAR CONCESSION
Following a rigorous Transnet National Ports Authority (TNPA) Section 56 tender process, Sunrise Energy, which is 49%-owned by the Industrial Development Corporation (IDC) and 51% by project developers Ilitha Group Holdings, was, earlier this year, awarded the terminal operator agreement by the TNPA, which granted it a concession to build and operate an open-access LPG import terminal for 30 years.
The project was also awarded a National Energy Regulator of South Africa construction licence in 2010, as well as the records of decision for land and marine environmental impact assessments, which are required by the IDC Credit Committee before funding was released.
The R700-million initial phase of development would involve the construction of 5 500 t of storage capacity, comprising five off-mounted storage bullets to meet current market demand.
"These storage bullets will be the largest vessels of their kind manufactured in the southern hemisphere and are being fabricated by local manufacturer Elgin Engineering," said Harmse.
The planned commissioning period for the Phase 1 facility was the second half of 2015.
Future expansion of 5 500 t each would begin thereafter to meet projected market growth, with a total available capacity upon completion of up to 52 000 t/m.
The LPG vessels, which would originate from refineries in Mozambique, Angola, the Gulf of Guinea and Qatar, would make use of a multibuoy mooring system, as well as subsea and overland pipelines to transfer the gas to the onshore storage facility.
The product would then be dispatched by road tankers, with provision for future pipeline transfers and rail loading.
Major contracts already awarded included the engineering, procurement and construction management contract to professional services and investment consulting company Jacobs Matasis and the marine engineering contract to consulting engineers PRDW, with Sunrise expecting up to 70% local spend.
Harmse added that the project was in line with the Department of Energy's goal to improve the South Africa's energy mix and provide lower-income households easier access to cleaner energy.
Additionally, LPG availability in the region would allow for small business growth, which had, in the past, been constrained as a result of limited access to LPG.
"The facility will allow for direct and indirect job creation and for other LPG infrastructure projects sponsored by the IDC. It is classified as Strategic Integrated Project 5 (SIP 5), one of 18 such projects aimed at improving national infrastructure," he commented.