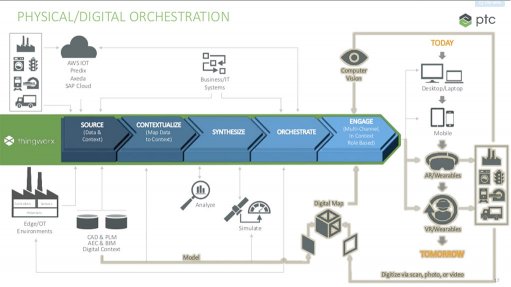 With the evolution of connected products and connected industries; ThingWorx alone offers the ability to provide an end-to-end IoT solution. ThingWorx is the first software platform designed to build and run the applications of the connected world. ThingWorx reduces the time, cost, and risk required to build innovative Machine-to-Machine (M2M) and Internet of Things (IoT) applications.

What ThingWorx Provides
The platform provides a complete application design, runtime, and intelligence environment with the following pioneering features:
It's a Modern and Complete platform
Deploys 10X faster with Model-based Development
Mashups People, Systems & Machines
Allows you to Deploy How You Like
Allows you to Evolve & Grow Your Application Over Time
Come and experience ThingWorx live at the 2017 Africa Automation Fair. Visit 1Worx, a subsidiary of productONE and distributor of ThingWorx in sub-Saharan Africa, at stand no.C6. If you are a Systems Integrator, Reseller, Programmer or User; we are interested in meeting you.
Contact marketing@prodone.com for any further information.